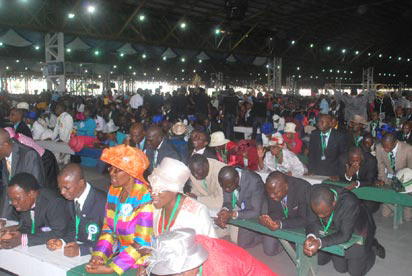 The Redeemed Christian Church of God, RCCG, yesterday ordained a total of 8,151 persons to assist the mission to administer the fast growing church. The figure is 19 short of the 9,170 persons that were ordained last year.
The newly ordained 4,412 deacons and 3,739 deaconesses were admonished to give priority to the Word of God and pray in their individual lives and ministry for them to do exploits in their various calling.
President/founder of Doulos Ministries, Pastor Charles Achonwa made the appeal in a sermon while admonishing the newly ordained ministers during the ongoing 64th annual Convention of RCCG, at the Redemption Camp, Kilometer 46, Lagos-Ibadan Expressway.
Speaking on a topic titled: "Thy Word is settled", Pastor Achonwa explained that for any minister of God to enjoy the fullness of God, he/she must allow the Word of God to change their attitude, lifestyle and also activate it in their individual lives.
Decrying the decrease in preaching the genuine Word of God and making of disciples among Christians, Achonwa called on the newly ordained ministers to live up to their responsibilities by preaching true Word of God which, according to him, can grow into Christ disciples and make great impact in their ministerial assignments.
In his words: "The Word of God that is settled in heaven must be activated on earth. The word that created everything can be applied to change anything, arise and activate the Word. God's word is so important that He has exalted it above His name".
Warning the congregation against spiritual dormancy, the cleric said active word of God brings deliverance, victory over sin, flesh and devil, adding that genuine men of God dominate through the spoken word of God.
"If you stir up the word in your heart as burning fire, it will burst from your mouth as living fire", he said.