Lagos – Minister of Science and Technology, Dr Ogbonnaya Onu, says the Federal Government is committed to ensuring every Nigerian has access to food within the next few years.
The minister gave the assurance during the factory tour of Erisco Foods Ltd., on Monday in Lagos.
He said, "The Federal Government is committed to ensuring that our economy recovers to a level where we can create jobs for our people, we can also rebuild our image as a great nation.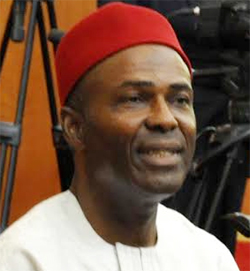 "No great nation can be considered great if that country cannot feed its citizens. The government is determined to feed its citizens.
"The journey has started, it is not an easy journey, but I believe that by the grace of God we will achieve it.
"Many other countries have done so. China with 1.4 billion citizens feeds its citizens, so we do not have any reason whatsoever with a population of less than 200 million.
"We should be able to feed our own citizens."
According to him, manufacturing most of our needs locally will assist the country to achieve food security and build a resilient economy against global economic shocks.
The minister said that the government was working assiduously by stimulating economic growth, adding that patronage of locally produced goods would ensure sustainable development.
He commended Erisco Foods, adding that its production would assist in job creation, waste reduction, poverty alleviation and diversification of the economy.
Mr Eric Umeofia, the Chief Executive Officer, Erisco Foods, urged the government to formulate policies that would enable indigenous manufacturers achieve its food sufficiency agenda.
Umeofia said that government's agenda geared towards diversification of the economy through industrialisation would only be realised with favourable policy formulation and implementation.
According to him, the "Buy Made-in-Nigeria Product" slogan can only thrive with genuine patronage from Nigerians.
He urged the government to ban imported tomato paste to support local manufacturers.
He urged the Central Bank of Nigeria (CBN) to improve its foreign exchange allocation to genuine manufacturers for purchase of raw materials and machinery acquisition.
Dr Gloria Elemo, Director-General, Federal Institute of Industrial Research, Oshodi, (FIIRO), commended the technology and manufacturing methods adopted by Erisco Foods.
According to Elemo, I believe with the facility here we will soon be exporting tomato paste and not have it for local consumption alone.
Mr Dele Komolafe, the representative of the Association of Agricultural Products and Equipment Manufacturers in Nigeria, urged the government to support manufacturers' drive to industrialise the country.
He said, "We are of the firm belief that indigenous manufacturers should be given a chance to prove the capacity to feed the nation.
"Just like the former Prime Minister of Indian trusted Indians when he banned the importation of rice, tomato and other food items, we are trusting that our indigenous manufacturers will live up to expectation.
"He told Indians to eat food items available until they will be able to cultivate rice, tomato in the next farming season.
"Today, Indians are food sufficient.
"We, indigenous manufacturers, are very ready to meet all tomato needs in this country by December and begin to export by 2017 if our members get the required support from the government."
AIO/JI/PAD
Subscribe for latest Videos