As scandals continue to rain on Team Nigeria like a deluge, the presidency, we gathered, has noted all the unpalatable events down and is expected to investigate them to fish out those responsible for the acts that have brought international embarrassment and shame to the country.
According to top sources in the Presidency, the embarrassing acts are being noted with the gathering of more information to be able to properly brief President Muhammadu Buhari about them and take actions to stem the tide and future occurrence..
One of the sources told Sports Vanguard that the case of the U-23 football team who were stranded in Atlanta and almost cost the team their opening match against Japan before they were rescued by Delta Airline "was a big embarrassment to Nigeria," adding, "I am sure we have not heard the last of it."
Just a few days after the U-23 embarrassment, another one hit the global scene as the much publicised new kit that was unveiled before President Buhari at the Aso Villa on the day Team Nigeria was officially handed over to the Nigeria Olympic Committee, NOC, failed to arrive Rio on time for the Opening Ceremony on Saturday..
As a result of the non-arrival of their kits, Team Nigeria athletes had to march in tracksuits with one foreign journalist, Alexander Wolff of American Magazine, Sports Illustrated, who is covering the Games taking to  twitter to ridicule the country thus: "Nigeria, marching in sweats because official outfits didn't make it to Rio. Can we agree that they're a country to pull for these two weeks?"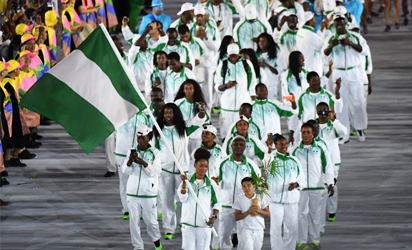 Team Nigeria appeared the worst dressed at the opening ceremony where countries adorned different attires reflecting their cultures. The athletes savoured the occasion to showcase themselves as most of them may not be lucky to be on the podium for medal presentation.
The Youth and Sports Development ministry got knocks from Nigerians on social media as a result of the poor dressing. One of the quotes read "Shame on Nigeria. Shame Shame Shame. We are not capable of doing anything right. It is impossible to do the right thing. Always coming up with stupid excuses that no one else seems to have.


I could not find the right words to explain to my daughter here in Houston why we dressed like no other country. I was embarrassed. The opening ceremony was exciting until we appeared shamelessly and I did not need to be told that they left their official attire in Nigeria.We are ridiculous and shameless."