After her unimpressive outing at the  Rio 2016 Olympic Games, Nigerian athlete  Blessing Okagbare  will be competing in the long jump event at the IAAF Diamond League.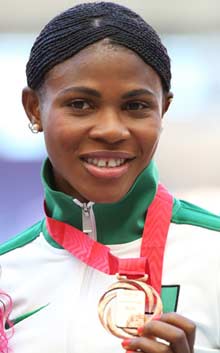 In Rio 2016, Okagbare competed in the women's 100m, 200m and 4x100m relay  but failed to impress in any of them.
Shifting her attention to the IAAF Diamond League  which begins today, the Delta State-born athlete will now compete in the long jump event.
On the provisional list of entries announced by the organisers on Monday, August 22, Okagbare is confirmed to return to long jump after opting out of the event to concentrate on the 100 and 200m in Rio.
She will be up against reigning world and Olympic championTianna Bartoleta  of the United States for the winning prize reward of $10,000 and the maximum points (10) on offer at the event.
She is a one-time IAAF Diamond League winner of this event, jumping 6.98m to beat then reigning world and Olympic champion, USA's  Britneey Reese  (6.96m).