By Chioma Obinna
Breast milk everywhere, yet Nigerian newborns and infants are hungry, underfed, and malnourished. In spite of the fact that many Nigerian women are well endowed up there, majority of them have different opinions  about breastfeeding which have not in any way benefited the children.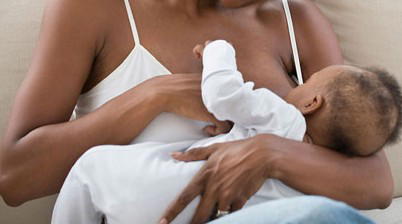 "What an irony! How would you explain it that you live in an area surrounded by water, yet you can't find any to drink," Mr. Joseph Olawale  had asked this reporter who sat beside him in a commercial bus heading to Mile 2 from Oshodi when he could no longer bear the cry of about three months old baby strapped to the back of her mother.   While many occupants of the bus were practically begging the young mother to at least  unstrap the baby, she kept mute.
The drama  in the bus lasted till the reporter alighted at Mile 2 bus stop; the mother of the child was not moved. This scenario is  a common occurrence in Nigeria today.
Another scenario: A  graduate of political science, Kikelomo Idowu, works in one of the banks in Lagos.   As early as 7 am, she has to be  in  office.   That is her routine.   Like every other African woman, she got married about a year ago and, today, she is a proud mother of a  two month-old baby. Unfortunately, Kike, as she is fondly called, has no time  for her  baby.
"I leave my house very early and do not come back until 9 pm every day.   How do you expect me to breastfeed?   Even when I try to press, the milk is not flowing.     It is not also necessary because I intend to keep my breasts firm."
The only alternative left for Kike  is infant formula which the baby was introduced to as early as three weeks old, despite medical experts warning that such food  contains high protein that is not appropriate for babies.   Although Kike and women like her  have jettisoned the rule of exclusive breastfeeding to keep their breasts firm, experts say worrying about if your breasts will sag or become unattractive is a waste of time as the only way to keep firm, upright breasts throughout your lifetime is to never get pregnant and never get old.
Meanwhile, other reasons some Nigerian mothers have developed apathy for breastfeeding include urbanisation, globalisation and  work-life imbalance.
According to the World Health Organisation, WHO, exclusive breastfeeding means that the infant receives only breast milk and no other liquids or solids are given – not even water – with the exception of oral rehydration solution, or drops/syrups of vitamins, minerals or medicines.
Little progress
Indeed, Nigeria is one of the few countries making little or no progress in exclusive breastfeeding.
A  UNICEF report said that, over 10 years, Nigeria has increased its exclusive breastfeeding rate from 12 per cent to only 25 per cent.   By comparison, in 1994, both Ghana and Nigeria had both exclusive breastfeeding rates of 7.4, but, by 2013, Ghana had moved up to 63 per cent and the attitude of Nigerian women to breastfeeding is believed to have contributed a large percentage to the country's inability to make significant progress in exclusive breastfeeding.
Today, according to UNICEF Representative in Nigeria, Jean Gough, lack of exclusive breastfeeding is implicated in the current high rate of child malnutrition in Nigeria.
Not even  educated mothers are spared of the misconceptions surrounding breastfeeding in Nigeria.
This, perhaps, informed the decision of the United Nations to come up with the World Breastfeeding Week, celebrated every year in over 170 countries to inspire breastfeeding and improve the health of babies across the world.
Health benefits of breastfeeding to the mother and the baby are, however, not in doubt, as studies have shown that the breastmilk contains all the nutrients a child requires for proper growth and development.
Research shows that an exclusively breastfed child is 14 times less likely to die in the first six months than a non-breastfed child and breastfeeding drastically reduces deaths from acute respiratory infection and diarrhoea; two major child killer diseases.
Breasts sagging
A  former National President, Medical Women Association of Nigeria, MWAN, Dr. Dumebi Owa, who described as unfounded  the notion that breast feeding is the reason breasts sag, said: "Besides helping to create a bond between mother and child, breast milk also immunes babies against diseases".
Owa blamed women who refuse to breastfeed their babies for fear that their breasts would sag, adding that researches have shown that pregnancy, among other factors, make breasts sag. "It is a natural phenomenon, but it is a price worth paying for a healthy baby."
Lamenting what she described as lackadaisical attitude towards something that would give babies life and protection from killer diseases, she advocated the creation of creches in the workplace to enable working mothers to adequately breast feed their babies.
"The truth is that life itself takes a toll on our breasts. Age, weight gain or loss, pregnancy, the effects of gravity, and yes, breastfeeding all affect the way your breasts look".
According to Owa, during pregnancy, your breasts prepare for nursing by becoming larger, while your nipples and areola get darker, and may become slightly larger as well.   Several days after birth, your breasts become fuller and heavier as your milk comes in, approximately two weeks after birth, your breasts return to the approximate size they were during pregnancy, and stay that way until you wean your baby, when you return to your pre-pregnancy weight, your breasts will likely return to their pre-pregnant size, though they probably won't be quite as perky as they were before you were pregnant".
Lamenting that many Nigerian children are not getting enough, she explained that a balance can be difficult when a working-woman in a city wants to combine motherhood with a career.
Meanwhile,  a UNICEF Nutrition Specialist, Dr Zacharia Fushieni, says exclusive breastfeeding is important and it plays a major role in a child's development and has been identified as a proven intervention to reduce child mortality.
Fushieni stated that babies should be put to breast within the first hour of birth and must be on demand.
Dismissing the misconception surrounding the first yellowish colour breast milk known as 'colostrums', he explained that   mothers should ensure that the baby takes the first breast milk that comes out, which is the colostrums,   as it serves as first vaccine against diseases for the baby.
Mamacare Pregnancy
In Nigeria, The Well-being Foundation Africa (WBFA) is among the organisations promoting exclusive breastfeeding. Since 2014 when the Foundation, founded by Mrs Toyin Saraki, wife of the Senate President, launched the initiative, it has been conducting Mamacare Pregnancy classes across Nigeria weekly, where midwives teach mothers about  The Ten Steps to Successful Breastfeeding,  nutrition and promote healthy lifestyles for mothers. These classes are the first civil society health visitor programmes in Nigeria. Very few developing countries provide mothers with sufficient education and knowledge on motherhood, and   this lack of knowledge can lead to bad health and at times death of the mother and child.
WBFA has also continually promoted the role of the midwives as the solution to great health for mother and baby. Midwives, the Foundation believes, should be used in health systems not only as caretakers of babies, but also mothers, especially beyond birth in the postnatal period.
In a message to mark the 2016 Global Breastfeeding Week, Mrs Saraki, who is also the President of Global Goodwill Ambassador of the International Midwives Confederation,    said: "We should all recognise the great benefits of breastfeeding in successfully achieving two key global Sustainable Development Goals (SDGs), notably SDG5, good health and well-being for all and SDG1, reducing poverty. WBFA remains dedicated in helping Nigeria and all African countries in reaching these developmental goals and ensuring that every child and every life matters".
Effects of poor breastfeeding
Also in a message to mark this year's World Breastfeeding Week, UNICEF revealed that over five million newborns in Nigeria are deprived of essential nutrients and antibodies that protect them from disease and death as they are not being exclusively breastfed.
According to the 2014 National Nutrition and Health Survey, approximately seven million children are born in Nigeria every year and only 25 per cent are exclusively breastfed.
Normally, mothers should  derive joy from suckling their babies and their commitment to this noble duty is expected to be high. Unfortunately, most Nigerian women have failed to keep to that.
To meet their evolving nutritional requirements, infants should receive nutritionally adequate and safe complementary foods, while continuing to breastfeed for up to two years or beyond.
Exclusive breastfeeding is free and breast milk is readily available; so exclusive breastfeeding should be the country's first strategy in fighting child malnutrition.
Also, pragmatic efforts should be made to improve exclusive breastfeeding among women with a view to ensuring a better life for the country's future leaders.