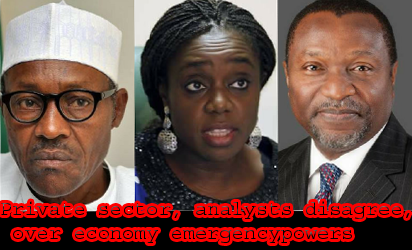 Buhari, Adeosun and Udoma
By Michael Eboh
The Nigerian economy, Wednesday, plunged into recession, as the National Bureau of Statistics, NBS, disclosed that the country's Gross Domestic Product, GDP, in real terms, declined by 2.06 per cent in the second quarter of 2016.
Nigeria has now recorded two consecutive quarters of declining growth in GDP, the usual definition of recession.
The NBS, in its GDP Report for the Second Quarter (Q2) of 2016, stated that Nigeria's Q2 GDP was lower by 1.70 per cent points from a negative growth rate 0.36% recorded in the preceding quarter, and also lower by 4.41 per cent points from the growth rate of 2.35 per cent recorded in the corresponding quarter of 2015.
In nominal terms, the NBS stated that Q2 GDP was N23.484 trillion at basic prices, 2.73 per cent higher than Q2 2015 value of N22.859 trillion.
This growth, the NBS said, was lower than the rate recorded in the second quarter of 2015 by 2.44 per cent points.
The NBS further noted that during the second quarter, oil production stood at 1.69 million barrels per day (mbpd), dropping by 0.42 million barrels per day from production in the first quarter of 2016, and also representing a decline of 0.36 million barrels per day from the 2.05 million barrels per day crude oil production recorded in the second quarter of 2015.
It said, "As a result, real growth in the oil sector was negative 17.48 per cent (year-on-year) in the Second Quarter of 2016. Growth declined by 10.68 per cent points and 15.59 per cent points relative to growth in the second quarter of 2015 and first quarter of 2016 respectively.
Quarter-on-Quarter, growth also slowed by -19.11 per cent.
"As a share of the economy, the Oil sector contributed 8.26 per cent to total real GDP, down from the contribution recorded in the corresponding period of 2015 and the first quarter of 2016 by 1.54 per cent points and 2.03 per cent points respectively.
For the non-oil sector, the NBS said, "Growth in the non-oil sector was largely driven by the following seven activities of agriculture, information & communication, water supply, arts entertainment and recreation, professional scientific and technical services, education and other Services which all grew positively while the remaining 19 major sectors, many of which are substantially indirectly dependent on the oil sector recorded negative growth.
"The non-oil sector accordingly, declined by 0.38 per cent in real terms in the second quarter of 2016. This growth rate was 0.20 per cent points lower than the first quarter of 2016 (-0.18 per cent), and 3.84 per cent points lower from the corresponding quarter in 2015 (3.46 per cent).
"In real terms, the non-oil sector contributed 91.74 per cent to the nation's GDP, higher from shares recorded in the first quarter of 2016 (89.71 per cent) and the second quarter of 2015 (90.20 per cent)."