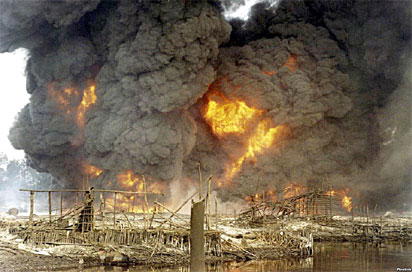 WARRI- BARELY 24 hours after it threatened to bomb oil installations in the Niger Delta region if the Federal Government did not stop its one-sided talks with the Ijaw ethnic nationality, the Niger Delta Greenland Justice Mandate, NDJM, Wednesday, blew up a major trunk delivery line in Delta state.
The trunk line conveying crude from Isoko to the Eriemu manifold Urhobo nationality belong to NPDC and Shoreline Resources.
NDJM in a statement, last night, by the spokesperson, self-styled General Aldo Agbalaja, said the Central Operational Command of the group has approved the commencement of demolition and evacuation of uplands tagged 'Operation Zero' to correct the wrongs that have afflicted our people for years.
The group had, Tuesday, warned the federal government to stop parleying with the Ijaw ethnic nationality alone, as it was not the only tribe in the region that its militants could blow pipelines.
It said it was out to "seek justice for the perpetually cheated and protect the identities of our people, who are co-owners of the wealth, which Nigeria has forever misappropriated."
Vanguard could not confirm the authenticity of the claim, last night, from industry sources.
However, the group said: "As a mark of our seriousness and to prove we are people of our words, at about 02.00hours of today; Wednesday, August 10, 2016, operatives of the Niger Delta Greenland Justice Mandate brought down a major trunk delivery line from Isoko to the Eriemu Manifold in Urhobo, belonging to the NPDC/Shoreline Resources"
"We would also want to use this medium to give a very strong warning to the operatives of the asset NPDC/Shorelines not to commence repairs pending when they get signals from us, otherwise the inevitable may occur to their personnel, as we have earlier warned them to begin evacuating the uplands," it said.
Its words: "This is just a glimpse of what is to come, there are several assets already penned down for destruction. This line of action has been made inevitable by an unjust system, which only responds to the violent to the detriment of the peaceful and law abiding."