As the days for the boxing event of the Olympics draw near, Coach Anthony Chukwuemeka Konyegwachie has vowed to get a medal for Team Nigeria from Nigeria's sole entrant inboxing, Efe Ajagba.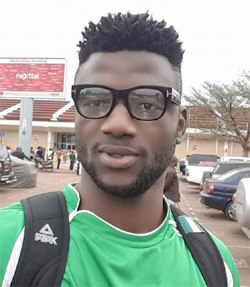 Boxing takes the centre stage on Saturday, 13 August inside the Riocentro-Pavilion 6 and Trinidad and Tobago's Nigel Paul would provide the first acid test for the Nigerian and his optimistic coach.
"All I know is that Efe Ajagba is as good as a medal here in the Olympics", Konyegwachie said at the athletes Village in Rio.
"People have been wondering why we fielded only one boxer. The truth is that he got here by dint of hard work and discipline. Those are the core ingredients in boxing. I know the boxer I have and am confident of what he can do", the coach said.
He should know because he too was a crack pugilist who crackled many opponents at the Los Angeles Olympics before settling for a silver.
"Ajagba is so dedicated to boxing. He packs devastating punches and his right and left combinations are amazing together with his foot movement on the canvas.
He has the height also", said the coach who was almost singing the praise of the boxer.
Looking at Ajagba's credentials, though, one can easily agree. Ajagba punched himself to reckoning at the Commonwealth Games in 2014 when he first represented Nigeria and settled for a bronze medal. At the 2015 African Games, the lanky boxer won gold. He's currently rated fifth behind the boxers who would square up against him for the medals in Rio.
"He has improved from what he used to be. He's good and focussed", Konyegwachie pointed out.
And how can you cope at the ring since you don't have assistants? "I've a friend who is going to help out during fights. Two can do the job". In a bout, there are about three coaches working on the boxer during breaks. My brother, all is well. My God fights for me", the coach said and could be heard singing; "Do something new in my life" as he entered the elevator.