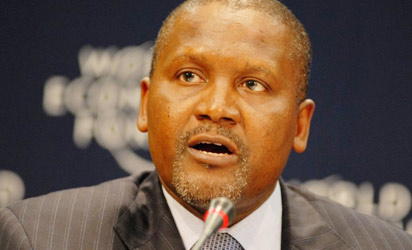 Alhaji Aliko Dangote
By Michael Eboh with Agency Report
Richest man in Africa and Chairman, Dangote Group, Alhaji Aliko Dangote has lost $5.4 billlion in his fortune since this year, according to data obtained, yesterday, from Bloomberg Billionaires Index..
Using an average exchange rate of N250 to a dollar, Dangote's $5.4 billion loss translates to about N1.35 trillion.
The Bloomberg Billionaires Index blamed the sharp drop in dangote's networth on the slump in commodities prices and the devaluation of the naira in June by the Central Bank of Nigeria, CBN.
The report put Dangote's net worth at $9.9 billion, a 62 per cent drop since January 2014, according to the Bloomberg Billionaires Index.
However, the report stated that Africa's second-wealthiest person, South African Christo Wiese, trails Dangote by $2.8 billion with his fortune climbing 12 per cent this year on the index.