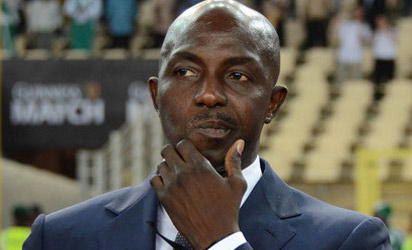 Siasia
*Reveals what they did to his wife while he was away for the Olympics
*Says he can no longer work with those running sports now
*May only return when there's a true change in sports
*Recalls the efforts of President Buhari through Osibanjo, Lai ` Mohammed, Adeosun
*Wants money meant for the failed chartered flight to be accounted for
Coach of the National U-23 team, Samson Siasia is certainly not new to  Nigerian football. His latest foray where he led the team to win Nigeria's only medal at the just concluded Rio 2016 Olympic Games was not the first time the former Super Eagles striker will be on the saddle. Before now he had coached the same team to the Beijing 2008 Olympic Games where he won the silver medal after another silver medal in Under 20 World Cup in Holland. In this last assignment for the Rio Olympics, the sports minister Solomon Dalung called him names for taking the team to Atlanta for preparation.
Before then the same minister publicly condemned him for dropping some players who played in the African Championship in Senegal. The minister wanted all those who played in Senegal to be in Rio their fitness level or injuries notwithstanding. The Nigeria Football Federation owed him salaries running up to five months. He never got the support he needed from the ministry to the federation. In this interview with Correspondent Jude Opara, Siasia speaks on his future in Nigeria and many more. Excerpts.
Welcome from Rio Olympics. How does it feel?
It feels good because the end justifies the means. We wanted the gold but     we are still happy with the bronze because it made Nigerians happy. The minister accused you of child trafficking for taking the team to Atlanta without his knowledge or consent.
How can I take a national team out of the country without their knowledge of the NFF and the Sports Ministry? I really don't know were that was coming from.We had the plan to travel from Atlanta to Brazil on the 29th of July. But the agent who was handling that did not get us the chartered flight or pay for our tickets, but nothing actually happened and that was when I, on my own, decided to contact an agent, Greg.
But the guy said he would not do anything until he saw that the money was paid into his account. After three days, the guy said he was no longer interested and even told other operators not to deal with us that we were not a serious people.
Back to the camp in Atlanta. How was it?
The first 10 days was like a hell because we had to struggle to pay for hotel accommodation and feeding because the person, Bunmi, who opted to assist us did not get the necessary support he expected. But after the fist 10 days the Ministry came through the NFF and paid for our bills. But we were stranded in Atlanta because the money they said they paid to one Poopola for us to travel never came and nobody has heard anything about it.
What was your level of communication with the both the NFF and the Ministry while in Atlanta?
No, nobody called me from the ministry. The Minister was dealing with Mikel may be because he was the captain of the Olympic team. But when we had the plane issue, the Vice President called and I spoke with him like two times, the Finance Minister called and indeed the first person to call was the Minister for Information, Lai Mohammed. I must say he did a nice job to see how to solve our problem because I think the President heard about our plight and instructed that they should find a way to solver the problem.
They were, I believe, embarrassed because the issue was even on CNN every time. However, the chartered flight thing never worked out because the guy they were discussing with called me and we tried to see how to arrange the fight but there was no money sent to him and so it didn't work out too. So the option we had was to arrive Rio the very day we were to play and that could have resulted in a walk-over of our team.
We had a chartered 36-seater flight that was to take us to arrive Rio by 2 o'clock while our game was at 9 o'clock. But the players were afraid of that flight because it was very small and when we got to the airport, Delta called thought the same Bunmi guy. In fact, they were supposed to partner with Delta but I don't know what happened. When they heard of our plight they called him to offer a big plane to fly us the next day so as to arrive five hours before the match.
Indeed we were already at the airport to fly that small plane which was paid for by a friend of mine, but when the players heard that Delta was coming, they insisted that we should watt for it. In fact they were almost dying out of fear. When I called Mikel to tell him about the development, he said 'I beg, please let us wait for tomorrow for the bigger plane which is safer and better'. All the players were happy and excited that we were not going to fly that small plane and perhaps that is the reason they came out to play the way they did with all their mind.
Indeed Delta did a great job. Even when the CBN 46 came to the hotel, we refused to tell them about our problems because it was about Nigeria, even though every thing was already in the public domain. Talking to them would not have changed anything.
Now Delta said the cost of flying us was about $250,000 dollars but that they were not charging us. They said if we had it the money could be paid to any charity organization of mine or Mikel but we have not seen anything and that appears like another fraud. We took pictures with Delta to promote them and thank them for their support. I am telling you what actually happened.
We are still waiting to see where the money that was meant for us to fly to Brazil has gone to. Nobody has said anything. The federal government sent the money to the Nigeria Olympic Committee (NOC) and the NOC said they sent the money to the airline in Florida which up till now they have not received anything, even the airline is planning to sue them for breach of contract because they were supposed to pay some money to them even if they were to cancel the arrangement. That is even another issue. We don't even know how they are going to settle that.
The Minister categorically said he never knew where you were and that you were engaging in human trafficking, is that true?
(Laughs) I don't know what he was talking about. When I first heard about human trafficking and such stuff, I was angry because the Minister knew that we were going to Atlanta. If not that they stole my phone, I would have shown to you his text message to me before we travelled. That day the U-20 defeated us 3-2 in our last warm-up match, the Minister sent me a text that I should come so that we can chat but when I went they said he went to the Villa.
He knew exactly what was going on because there was no way he would not know because the Olympic team is statutorily under his control, it is his baby and that has been the way it is. So I don't understand why he should say I was engaging in child trafficking.
How did you feel about that statement?
As I said before I felt very bad but later I didn't want it to bother me because I know it is not true and I had other more important things to worry about than such comments.
Would you say that yours trip to Atlanta has been justified?
Yes because they say that the end justifies the means and if not for that it would have been very annoying because after working very hard for two years without anything to show for it would have been disastrous. It would have been a waste of time and effort. I am happy because in spite of all that we went through both here at home and in Atlanta, this is the only team that won a medal for the country.
It felt so good when the Nigerian team was called alongside the Brazilian and German national teams with the Nigerian flag hoisted there, that is what we were talking about, putting Nigeria where so many other countries didn't have the chance to be and that is why I say that these boys need to be commended for what they did. This is something that money cannot even buy.
What did you really play for?
We didn't play for money and in fact there was even no money to play for. So what I told the boys was to ensure they played for their country and for their pride and future so that they could get better clubs because that is the only thing to point to motivate them, given our situation.What was it like in camp?We were on and off the camp for two years with only two training jerseys. You know everything was just wrong from the beginning. The only good thing from this camp is the fact that the boys really came out to play and Mikel showed character and leadership among the younger boys. We worked together to ensure that we got something out of them.It appears that the team has been disbanded because there was no official reception and send forth of the team, so what is the next thing for Samson Siasia?

Personally, I was not really surprised that they did not welcome us because most of them were actually waiting and praying for us to fail but we disappointed them by winning that medal. But most sports loving Nigerians who were not on the saddle came out on their own and they were the ones that really appreciated what we did.
Look at this way, if things were done properly, they should have at least informed the Lagos State government that the Olympic team was arriving so that they could welcome us on behalf of the government but nobody told them anything. There was no connection from the Nigeria Football Federation (NFF) or the Ministry of Sports. They knew we were coming. It was only one staff of the ministry that was sent to take us to hotel.
What is your next step with the national team?
My next step is that I am done with Nigeria for now. You can't keep going to a place where they don't appreciate you. It does not worth it. Sometimes it is not about the money but the approach. They seem not to appreciate the sacrifices. I know how much I have sacrificed since the team began camping two years ago. How can you keep going to people who don't appreciate you? It does not make sense, so I am done for now. I have to go somewhere else where they will appreciate what I have done and what I can do and pay me the respect that I deserve.
But many Nigerians out there still appreciate you.
I know and that is why I keep coming to do the dirty jobs for them because of my numerous fans out there but I can't just continue because those fans are not the policy makers. How can you keep toiling for five months without even your salary? Nothing has changed in the last two years.
It has been from bad to worse, so we must sit down and do something about the structure of Nigerian football and by extension sports in general. It doesn't worth it to work with the people running sports now in Nigeria. From the Federation to the sports ministry. They don't have it and will not give what they don't have. It feels bad.
It is like you already have somewhere in mind.
No, I don't have any place in mind. I just have to go an d rest for two months and while I am resting, I will not be the one looking for where to go. There are people who will be doing that. But for me I am done with Nigeria until things change. Imagine any time they have a problem, they will call on me to come and help but they will use me and later dump me.
I have not started any team of the Super Eagles from the beginning, not even one time. I want to thank them very very much. Even before I returned from the Olympics, the only car they gave me, they took it away from my wife. That is just awesome. That is not how to treat someone who was out there seeking glory for the nation. Let them eat their national team.
Are you saying you will never come to work for Nigeria again?
No not now, I will not change my mind when the same people are there doing the same thing over and over again. If the right people come on board tomorrow then I may reconsider my position because I am also a Nigerian but truly, I will no longer work with these people.
We are out of the AFCON, U-20 and U-17 teams have all crashed out, what hope do we have to qualify for the 2018 World Cup?
I wish the country well, but before we talk of qualifying we must do the right thing. When we don't do the right thing and still want to qualify, then it does not work that way. Yes we pray, but other countries also pray and God is a fair God and I believe God will most likely answer the prayer of the person who has worked and prayed. To succeed you must plan and if you don't plan in any human endeavour, you have planed to fail.
But they have hired a new Coach and that is the first step towards succeeding
Well they have hired a coach, I wish them well but what time does he have to even know the players he intends to work with? I sincerely pray that he qualifies us for the World Cup.
But there is this talk out there that the reason they usually go for foreign coaches is because you Nigerian coaches always collect money to invite players to camp or collect money from players.
That is cheep blackmail. No coach who knows his onion will take money and take people who will not assist him to deliver in a championship. We have seen players like Kelechi Iheanacho graduate from the cadet team. If they were taking money how could you discover such good players who are doing well outside?
Probably, they usually run for foreign coaches because those are the ones that may give them cuts from their salary, it is a cheep propaganda to destroy Nigerian coaches. If they want to go for the foreign coaches, let them just do that. Some of them that came before what happened to them?
They ran away but we are here grounded because this is our country. We want to do everything to see her succeed. Even good or bad, we will return here because it is our country, that's it. If they think we are taking money to recruit these players, what money do these players even have to give to any coach? Mention one of them. Most of them are from poor families.
But their agents do payIf the agents succeed in bribing any coach to take a player who is not good enough, then that coach does not know what he is doing and he is not worthy to be called a coach because there is no amount of money that will make a bad player to become a good player. How much can a coach get out of these players and their agents?Again it is two folds, the only reason that a coach may accept to take money is when they don't pay him for months, and he has pressing problems, even as I insist it is not a good reason. That brings us to the issue of corruption. If you are working and they don't pay you, that is also corruption on their part.
So they are the architect of all these problems and if they have seen one coach that has taken money, have they confronted him with the player he was said to have collected money from? If they have the fact let them challenge the coach that this player said you took money or that you didn't play him because he didn't pay you. If you take such money, you are putting yourself in a lot of problem because if the player is not good he will affect your team and game plan, also if you don't play him he will talk because he has proof that you took money from him. To me I will never take money to play any player.