Some coaches of the Athletics Federation of Nigeria, who have athletes billed to compete in the ongoing Rio Olympics cannot have access to their wards because they have been locked out of the Games Village.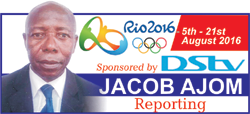 One of the coaches who arrived Rio the same time with this reporter, Solomon Aliyu was stunned at the welcome centre when he went for accreditation. After submitting his documents to the accreditation officer, he was asked to complete a form.
After filling the form, the accreditation officer issued him an accreditation that says he is a personal coach, meaning he can't gain access to the a Games Village. On inquiry, he was told in polite terms that the downgrading was done by his country's Olympic Committee. He can only gain access to the village by getting a daily pass.
Other coaches who will suffer the same fate are the triple jump coach and Blessing Okagbare's coach. If issued, the daily pass only allows the coach between 9 am and 9 pm.