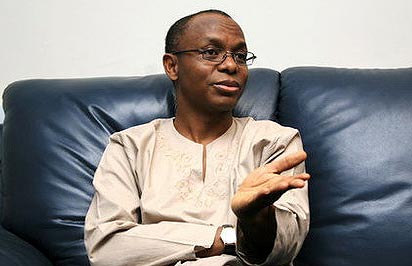 Gov. Nasir-El-Rufai of Kaduna state
An International Centre for Inter-Faith Peace and Harmony has opened in Kaduna, where more than 20,000 people have died in various conflicts over the last three decades. The centre is an initiative of the Jama'atu Nasril Islam and Christian Council of Nigeria.
Gov. Nasir El-Rufai of Kaduna State said on Friday while inaugurating the centre, that Nigerians must explore all avenues to bring about lasting peace in the country. He noted that Kaduna state, which used to be a home for all irrespective of religious and ethnic differences, had over the years become a theater for religious and ethnic conflict.
"Kaduna was home to people from different religious and ethnic background, but since the beginning of the 1980s, it has witnessed 12 rounds of bloody violence that killed over 20,000 people and destroyed properties worth millions. "Kaduna is now divided along religious lines, with the Muslims living on the northern part of the River Kaduna, while the Christians live in the southern part of the river.
"This is the state that we inherited, but the presence of this centre in the state is an indication that the people of Kaduna state would be united again, " he said. The governor pledged his administration full support in attainting the objective of the centre, and in reengineering the people to live as one.
He accused some religious leaders of igniting violence for selfish reasons, adding that some had turned religion into a business. El-Rufai, therefore, urged religious leaders, particularly those under the Christian Association of Nigerian (CAN) and Jamatu Nasril Islam (JNI), to deemphasize religious differences in their teachings, to ensure religious harmony.
Also speaking, the Sultan of Sokoto, Muhammad Sa'ad Abubakar, Co-Chairman of the centre, stressed the need for peaceful coexistence among Nigerians, saying that conflict never bring about peace. He advised Nigerians to explore dialogue in settling their differences.
The Sultan berated leaders against unguarded statements that fan embers of conflict, "particularly the one going round that there is an agenda to Islamise Nigeria." "Such utterances are not going to help us in any way. Rather than making such inciting claims, let us come together and see how we can come out of the religious turbulence that has continued to threaten the unity of the country.
"We are a multi-religious country because Allah designed it to be so. Let us understand each other and see one another as Nigerians, not as a Christian or a Muslim, "Abubakar said.
Similarly, Dr Emmanuel Udofia, also the Co-Chairman of the centre, said in spite of religious differences, Nigerians could still coexist.
He equally warned against inciting comments, saying, "What comes out of our mouth would either build or destroy us." Earlier, Dr Yusuf Wushishi, the General Secretary, Christian Council of Nigeria (CCN) and Co-Secretary of the centre, explained that the project was a product of a collective search for peace by Muslims and Christians.
"In may 2012, JNI and CCN hosted the world Council of Churches and the Royal Jordanina Aal Al-Bayt Institute for Islamic Thought, Jordan who visited Jos, Abuja and Kaduna to demonstrate international model for inter-religious engagement for peace. "The team recommended establishment of the centre to serve as neutral space to address and prevent conflict across Nigeria and today the centre is being inaugurated".
Wushishi explained that the objective of the centre was to contribute to peace through promoting justice and reconciliation between Christians and Muslims with particular emphasis on northern Nigeria. He said the centre would monitor and document conflict, create awareness on conflict prevention, protect women and children so as to nurture peaceful coexistence and respect.