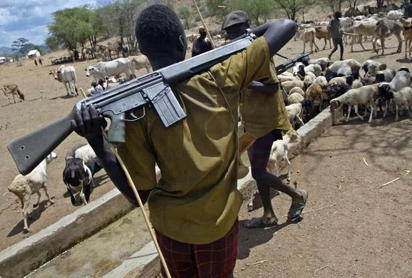 Armed herdsmen
By Umar Yusuf
Yola—FOLLOWING reported attack by Fulani herdsmen resulting in the death of six persons in Tambor Jumor community of Girei Local Government Area, penultimate Wednesday, palpable fear of further attacks by herdsmen now pervades Adamawa State.
According to report, the suspected herdsmen invaded the villages in the wee hours of Wednesday killing six persons, while many others were injured.
Though the remains of three of the victims had been recovered, the other three were still missing at the time of this report.
Villagers from the communities, predominantly Bahamas and Batas, have protested frequent attacks by suspected herdsmen and called for urgent intervention by government and security agencies.
The protesting villagers took the three recovered dead bodies to the palace of the District Head of Girei, Dr Ahmed Ibrahim chanting war songs.
Led by the village head of Tambor Jumor, Idris Hamidu, the protesters told the district head that enough was enough, threatening not to tolerate any more atrocities and carnage from the invading herdsmen.
They said all the neigbouring communities were being mobilized to contain the invading herdsmen, who they claimed had invaded communities in the area more than four times this year.
The protesting communities also marched to the Adamawa State Police Command Headquarters to complain.
At the police headquarters, a spokesman for the communities, Mr Christopher Jalo said the herdsmen had pushed the communities to the wall and the only option left was to defend their communities and people against the herdsmen invasion.
Receiving the protesters, Adamawa Police image maker, Othman Abubakar promised that the command in conjunction with other security agencies would ensure peace returned to the area.