The struggles of the junior national team, the Flying Eagles came to nought yesterday, when a rampaging Sudanese side rallied from a goal down to outscore them 3-4 at the Teslim Balogun Stadium, Lagos. This means the Eagles have been dumped out of the 2017 Africa U-20 Cup of Nations in Zambia. The Flying Eagles were the defending champions as they won the 2015 championship in Senegal.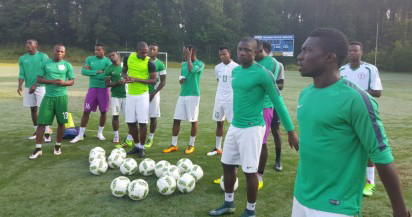 Signs that all was not well with the team came to the open when the players decided to down tools, as they were being owed tons of money, from when they won the U-17 World Cup in Chile to date. It was on the eve of the match that the vice President of the Nigeria Football Federation, Seyi Akinwunmi offered a respite with N5million palliative which made the players change their minds and agreed to play.
But the effect of the discontent was evident in their play even when they took an early lead against the visitors through Samuel Chukwueze scores from a solo effort in the 15th minute. The visitors equalised within 6 minutes. Bamgboye put the Flying Eagles back in the lead only for Halid Abdamuleem to equalise for Sudan. Half time ended 2-2.
The second half witnessed a red card to Walaadihh Musa for dissent and three more goals between the two teams with Sudan scoring 2. Deadly Halid Abdamuleem scored in the 83rd minute to give Sudan a hard-earned ticket to the 2017 AFCON at the expense of Nigeria. A top official of NFF lamented the poor financial state of the football house, which he described as pitiful. "Subventions are hard to come by and the crisis in the football house have kept potential sponsors away," the official said, adding, "this is the worst period of Nigerian football."