By Henry Umoru & Joseph Erunke
ABUJA— Senate Leader,  Ali Ndume, yesterday, dismissed impeachment plot against President Muhammadu Buhari by the Senate, saying the Upper Chambers alone cannot remove the President.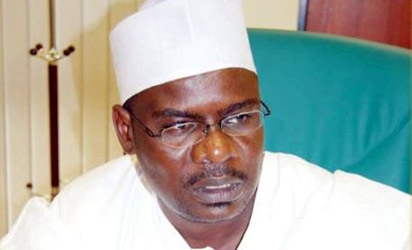 Ndume, who stated this in an interview with newsmen in Abuja, said the labourious process of impeaching a President would involved the entire National Assembly and not just a chamber.
Ndume, who noted that even if impeachment move was mooted, those behind it should jettison it, as they could hardly get the required number to carry it out.
Ndume, who wondered how anyone could have contemplated impeachment in a Senate dominated by All Progressives Congress, APC, said: "The impeachment process is a National Assembly matter, not Senate. Senate cannot impeach the President. It is the National Assembly that can impeach the President and it is by 2/3 majority.
"It is not by clearly stating impeachable offences served on the person, it is a process, it is a long, tedious process and in this country, we don't even need that; we are not even contemplating it and even if anybody contemplates it, it is not going to work because this is APC Senate.
"We have the majority, we have 58 to 60 senators and you need 72 senators to start off impeachment process. Where are they going to get the 24? Let me tell you, as some of them are coming into PDP, so many of them, their other leg is already with us. Many of the senators will come over to the APC.
"That issue of impeachment we don't need it. We don't have a president that has issues of corruption, integrity problem, mismanagement. We have a President that is straight forward and he doesn't have any mismanagement, abuse of due process."
Reshuffling of Senate cttees
On the recent Chairmen and Vice Chairmen of Committees that were reshuffled by Senate President, Bukola Saraki, Ndume said: "You know, after the inauguration of the 8th Senate, we had issues and all of you know here. So there was a kind of continuous turbulence in the Senate and as we go through, we try to find out to settle that turbulence.
"Part of which is like having a fair sharing of the committees and of course complying with the directives of the party or the leadership structure, this is the fact of the matter.
"As we get along, we felt that since the extension of hand of friendship from both ends to do more in order to have a smooth Senate that we would be able to have an environment where we are supposed to do our primary responsibility, execute our primary responsibility effectively, that is lawmaking, stabilizing the system.
Face-off between Tinubu, Melaye
On the face-off between Senator Oluremi Tinubu and Senator Dino Melaye, Ndume said: "I was not around when Oluremi and Dino had that issue and by the time I came back on Tuesday, we had a closed session, that was when Oluremi wrote to the IG on the issue.
"Oluremi is a senator and Dino is also a senator and Ali Ndume is also a senator. The only difference is that Dino is Chairman FCT and Oluremi is now chairman Environment and I am the Senate Leader but I am not senators leader.
"These are personal issues between two senators. Myself, I am the Senate leader not senators leader. You see I am handicapped." I went to Tinubu to beg her and I was the one that asked Melaye that they must settle it. You also can do that either Muslim or Christian. Oluremi told me personally that she has forgiven Dino and Dino has already said he is ready to move on and that there is no problem."