*Gives boost to Ize-Iyamu's gov ambition
Ahead of the September 10 Governorship election in Edo State, the gubernatorial ambition of the Peoples Democratic Party, PDP Standard-bearer, Pastor Osagie Ize-Iyamu, weekend, got a major boost, following his endorsement by an Independent Campaign Group, The #EdoDisciples.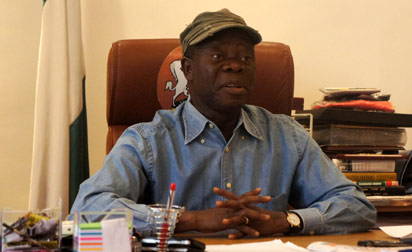 The support group, which said it was throwing its weight behind the candidature of Ize-Iyamu, pointed that the issues in the Edo governorship poll, go beyond party politics, adding that the incumbent Governor Adams Oshiomhole of the ruling All Progressives Congress, APC has failed not only his activist credentials, but also failed to deliver development to the people of the state in line with his presumed background as a progressive.
In a statement by its Coordinator, Ademola Olarewaju, the #EdoDisciples said: "The politics of Nigeria since the First Republic has been characterized by the same kind of political tactics that we witness today – thuggery, empty promises, rhetorics, rigging, bribery of electoral umpire, rented crowds, defections and so on – with opposing parties using the same political playbook and lacking distinctive strategy. Once in a while though, there is an imaginative intervention experiment that stuns voters – such as Obafemi Awolowo's use of a helicopter to arrive at various campaign points in the 1960s.
"Another unique feature of politics in Nigeria apart from the copycat tendencies is that youths are largely excluded from the political process except as thugs – either onground thugs to beat others up or online thugs to slander others. Some of us with our interests fully political feel that we can do more than this. That youths have value to add to the campaign of any candidate beyond such dirty use and in the process, create a campaign that is unique in approach to voters and procures more votes for the candidate.
"The election of September 10, 2016 in Edo State promises to be historical and has the capacity to radically alter the political space of Nigeria. Edo State as the only state in the Niger-Delta that is not governed by the PDP is an outlier. Following the heavy losses of APC in Bayelsa and Rivers States after the National victory of March 28, PDP sent a clear message that the South-South is firmly a PDP zone. If APC wins here, it defeats this political assumption but if it loses here, it will be a death blow to its outlook as a national party.
"For those of us who support the PDP and belong to it as members, sending this message to the APC has never been more important. Getting a seat at the table of Nigerian politics is also important. These ideas in our minds is what has birthed The #EdoDisciples – an Independent Campaign Group for Pastor Osagie Ize-Iyamu as the next Governor of Edo State.
"For the next few weeks leading to the Edo elections, #EdoDisciples will preach the gospel of Ize-Iyamu onground and online and add substantial value to the campaign with modern method of electioneering such as deep voter interaction, polling, experiential marketing and electoral monitoring.
"The issues in Edo also go beyond party politics – Oshiomhole has failed not only his activist credentials but also failed to deliver development to the people of the state in line with his presumed background as a progressive. Since I got here a few days back and tried to gauge the political climate of the state, the most recurring thing I have heard are tales of an almost pathological persecution of the poorest people. Ignore the infamous statement made by Gov. Oshiomhole himself that a widow should "go and die" – there is actually a Tax firm called Akugbe Ventures that is headed by an individual called Kabaka to bring in tax from the people – suya sellers, shoemakers, fruitsellers and this tax firm is the official revenue collection vehicle of the government."
Olarewaju added: "For a state that has received close to N2 trillion since Adams Oshiomhole was sworn in as Governor in 2008, Edo State remains largely backward and we will show this in the weeks to come. Edo State with Benin as capital, a city that was renowned all over the then Western Region as the capital of Woodwork and Furniture-Making now has to import school furniture from Abuja, only to have them dumped in a warehouse with leaky roofs while the schools were been constructed. By the time the warehouse was reopened, rain had destroyed the furniture – leaving several dozen schools without desks and chairs for students. Only few weeks back according to sources, the commissioner for Education sent a memo to the Governor requesting funds to refurbish and perhaps salvage some of those chairs. Edo deserves better than this political contraption called APC.
"There is only one party that can defeat the APC in Edo with a combination of proven structures and a wide array of experienced political minds. There is only one man that can lead the party to this electoral goal with a combination of street credibility, political sagacity, intellectual grounding, superior morals and a thorough knowledge of Edo politics that has worked for others in times past: that party is the PDP and this man is Pastor Osagie Ize-Iyamu.
"The #EdoDisciples is a wide alliance of dozens of people who recognise the harsh reality of our societal struggle for transformation and the truth of how elections are won, and lost. In this election, we intend to make our voice heard, our presence felt and our impact visible – online, but also on the streets of Edo State – and we have started.
"If our collective goal is to confront and subdue a political party that has now become the modern face of economic terrorism against the masses, our only hope to send a clear message of rejection by winning Edo, and the candidate to trigger this defeat is Osagie Ize-Iyamu."
Subscribe for latest Videos