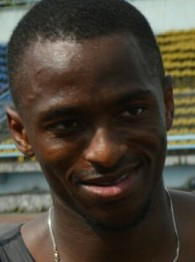 seye ogunlewe
By Ben Efe
Athletics Federation of Nigeria yesterday released the names of the athletes selected to represent the country at the Rio 2016 Olympics even as there was no sign the Sports ministry, is ready to provide funds to transport and keep the Nigerian team in Brazil.
Blessing Okgbare who did 11.02 seconds and Seye Ogunlewe whose 10.15 seconds earned him a back to back win of the trials, topped the list of 35 athletes picked at the Olympic trials in Sapele, Delta State last weekend. Okagbare and Ogunlewe ran their season's best at the trials.
Okagbare will perform in the women 100m, 200m and long jump. She will be joined by Gloria Asumnu, Jennifer Madu, Agnes Osazuwa, Sanni Zainab, Cecilia Francis, Khadija Suleiman and Olivia Ekpone for the women 4x100m relay.
For the women 400m flat and relay, Patience Okon George, Regina George, Margaret Bamgbose, Omolara Omotosho, Yinka Ajayi, Rita Osai, Blessing Mayungbe and Ekundayo Sogbesan made the list.
The other women are Oluwatobiloba Amusan (100m hurdles),  Amaka Ogoegbunam (400m hurdles),  Doreen Amata (high jump) Ese Brume(long jump),Okoro Chinwe (discus), Nwanneka Okwelogu (shot put).
Ogunlewe, Egwero Ogho-Oghene and Edward Monzavous are in for the men 100m. Tega Odele Oghenetega, Divine Oduduru (200m), Orukpe Eraiyokan (400m) Anthon Hicks (110m hurdles), Ukaoma Miles (400m hurdles), Oke Tosin, Olamigoke Olumide (triple jump) and Mozia Stephen Shot Put.
African heptathlon champion, Uhunoma Naomi Osazuwa expressed her joy being on the list. She initially was out of the picture, but was later reinstated following her inclusion on the IAAF best ranked list of qualifiers based on her 6153 points mark she achieved at the Africa Championships. The Olympic standard was 6200 points.
"I was disappointed after Durban performance. But it's definitely a blessing to be on the list," said the US-based