By Onochie Anibeze
IT was a good feeling when Ikechukwu Ofoje introduced me as a guy he played with in Nigeria and ovation followed. But it felt better to see for myself the progress this wonderful Nigerian is making in the United States of America. Ofoje made name as the youngest captain of Enugu Rangers when the Nigerian league could compare with what we have in Europe now in terms of followership and glamour at least among Nigerians. He was a strong defender, who sometimes was thrown into the attack. He never disappointed on those occasions. He packed bullets on both legs but his right was deadlier.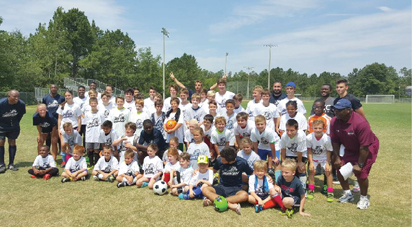 Don't forget that Brazilians once played in our league. Rangers had two and a Brazilian coach in Roberto Diaz. Our economy was good to attract foreign players. I'm not talking about the generation of our grand fathers but our generation. How things have degenerated. SHAME. Permit the digression. Now, Ofoje is the head coach of University of South Carolina, Aiken. He has been coaching in the USA for more than 15 years, and in Aiken, he is almost an institution. He is very popular and simply called 'Coach Aik.'
As guest of Ofoje, I enjoyed a 20 per cent discount in the hotel that I stayed. I visited my long time friend while on vacation, last June. It was a pleasant experience watching the summer soccer camp the University organised for kids. Soccer is growing in America, thanks to the likes of Ofoje and Totty O. Totty who also made name playing for Sharks and Rangers.
Totty coaches at Grambling State University and he is one of the respected coaches in female football in America, the home of female football. He was one of those who trained potentials at the soccer camp. Totty was pleasant to be with just as he was exciting as a full back in those great days of Nigerian football. I met many interesting guys. Dan Ikpechukwu was unbelievable, a true brother. Ify Okafor and her daughter; Ekene Nworji and her lovely wife; Ifeoma and their children. I met an Enugu man who claimed he played football when there were no rules and breaking opponents'  legs excited. He said he played for Robinson United.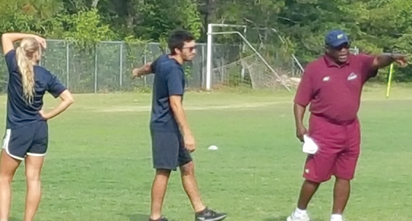 I met a man who appreciates President Muhammadu Buhari's fight against corrupt politicians but insists that indiscipline and corruption have so permeated our culture that the only way Nigeria can return to the era of WAR AGAINST INDISCIPLINE in Buhari's first coming as a military Head of State is for Buhari to "emerge from the Presidential Villa in a military uniform, announce that he has overthrown himself and that Buhari the soldier is the new President who will then begin to deal with indiscipline the way democratic norms can not derail."
Laughter followed but the man said that his joke should be taken seriously "because Nigerians only understand the language of force to desist from corruption and indiscipline on our streets, homes and offices".
Another interesting guy I met was Philmon, a British coach who was among the 10 coaches who worked with Ofoje at the summer camp. There was also Eugene, the Ghanaian-born Canadian, who is Ofoje's assistant but plays the game better than many of his players. And then Kimberly, the woman who told me an interesting story about "the Governor of Igbo nation" whom she described as a king. Kimberly brought her son, Keaston to the soccer camp and stayed back to watch the drills and games throughout the sessions. Many parents left after dropping off their children and only returned later in the evenings for them. Kimberly stayed to watch the sessions.
The indoor sessions were as interesting as the outdoor soccer clinics. It was while on the outdoor session that I started discussing with Kimberly. We exchanged greetings and she appeared excited meeting a Nigerian and asked if I were Igbo or Yoruba. It was clear she had Nigerian friends. She pleasantly told me about the Igbo convention she attended in Dallas in 2015, adding,
"I have never seen a thing like that." She had her reasons for saying this. " I saw the Governor of Igbo nation," she says. " He had bodyguards.  The people adored him for he was like a king, gorgeously dressed with a retinue of aides and followers. He commanded great respect and people were around him. Yes, I met the governor of Igbo nation in Nigeria. My Nigerian friends took me to the convention and I enjoyed it. There were music and a lot to drink and eat. It was a wonderful night in Dallas." She painted a picture of the said governor of Igbo nation displaying stupendous affluence and attracting attention in America.
I explained to Kimberly that about five states make up the Igbo nation and that what she saw was governor of one of the states. After phone calls to her Nigerian friends she confirmed to me the next day that the governor was Rochas Okorocha and I told her she met the governor of Imo State and that she must have attended the Imo State convention in Dallas. People are looking forward to another Rochas Okorocha show in US this year but with reduced allocations to the states and biting economy I doubt if Okorocha can stage a similar show again this year. He caught the fancy of the likes of Kimberly but the reality in Nigeria now cannot accommodate such unnecessary display of affluence.
It was pleasant reuniting with Ikechukwu Ofoje and Totty O. Totty again. I enjoyed some discount in the hotel I stayed in because I was guest of Ofoje, the head coach and director of soccer of University of South Carolina. That, in a way, underscores the importance of the office this Nigerian holds in the United States of America where he immensely contributes to the growth of soccer.
He is highly respected and he enjoys the job. Why not? Ofoje's family is his pillar. His wife has been a pillar from his university days at New Hampshire where he played in the same team with Totty. She is American with African hospitality.  I cannot forget in a hurry her goat meat pepper soup. Ofoje strives to develop potentials in USA. He also strives to give back to the game both in USA and in Nigeria where he played great football. But while they appreciate him in the USA and render all the support he needs to succeed, his story from Nigeria has not been pleasant.
He is outraged at how values have fallen in Nigeria. Ofoje studied in the University on soccer scholarship and he is today in a position to award scholarships to deserving students. While admonishing attendees of the soccer camp on the challenges and opportunities that lie ahead of them, he told them the story of his last scouting mission in Nigeria. He had met some young players he thought would grab the chance of soccer scholarship to study in US and play for the University of South Carolina, USC, Aiken.
But after interactions with the young school boys they were asking "how much will the university pay us for playing for them?" He left and returned to US wondering what had happened to the values and mentality of the people. It was a chance many would have grabbed with both hands in his time as a player in Nigeria. Ofoje harped on the importance of sports with education.
He is always proud to tell his players and holiday soccer camp attendees about Africa and on the last day of the soccer camp he told them that they had a chance to appear in Vanguard, Nigeria's top newspaper. He introduced me as "one of the best sports journalists from Africa who was a fine player and whom I played with when we were growing up in Nigeria." Applause followed from all.