Majority Leader of the Senate, Sen. Ali Ndume, has said that the impeachment of a president is a function of the two chambers of the national assembly.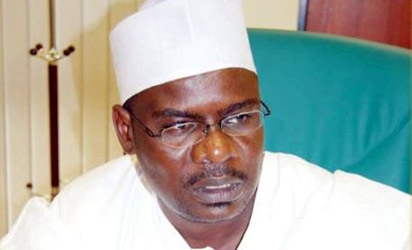 Addressing reporters in Abuja on Monday, Ndume said President Muhammadu Buhari has no impeachable "offence hanging on his head".
"The impeachment process is a national assembly matter not senate. Senate alone cannot impeach the president. It is the national assembly that can impeach the president," he said.
"It is the national assembly and it is by a two-third majority and by clearly stating impeachable offences served on the person if he fails to respond.
"It is a process, is a long tedious process and in this country we don't even need that; we are not even contemplating it.
"Even if anybody contemplates on it, it is not going to work because this is APC senate; we have the majority. We don't have a president that has issues of corruption, integrity, mismanagement.
"We have a president that is straight forward and he doesn't have any mismanagement or abuse of due process."
Ndume described the allegations of budget padding in the house of representatives as unfortunate, saying it is wrong for any member of the house to resort to using the media to seek redress on any issue, or for members to be fighting in the media.
"But I think they are going to work on it. I personally have been trying to reach out to both sides and we are working on that," he said.
"There is nothing like budget padding; if it is the national assembly that works on the budget, then you don't call it padding.
"But if there are certain abnormalities in the budget and what transpired in the budget process which is now an appropriation act, I think they know the right thing.
"We have a committee; if Rep. Jibrin is aggrieved he writes a petition or whatever and that should be referred to Ethics and Privileges which can do the investigation."