By Peter Okutu
ABAKALIKI—THE Movement for the Actualisation of the Sovereign State of Biafra, MASSOB, yesterday, stated that President Muhammadu Buhari's grouse against the Deputy Senate President, Senator Ike Ekweremadu is because the Senator is an Igbo man and not because of party affiliation.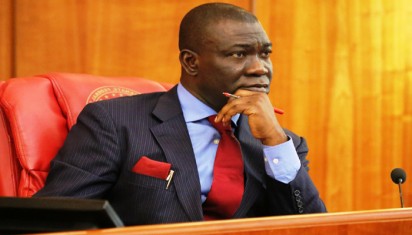 According to the group, Buhari's biased fight against corruption did not see major Igbo progressive leaders for rubbishing, hence he shifted his political muscle against Ike Ekweremadu, Deputy Senate President who is the highest Igbo political office holder in his administration.
In a statement signed by the leader of MASSOB, Comrade Uchenna Madu, MASSOB called on Ndigbo to be wary of President Buhari's antics against Ndigbo.
The statement read in part: "MASSOB has discovered the major reasons behind President Buhari's hatred against Ndigbo and Biafrans in general.
"Buhari's grouse against Ike Ekweremadu is because he is an Igbo man. If a non Igbo PDP senator replaces Ike Ekweremadu, Buhari, Tinubu and their likes will relax their nerves. MASSOB also reminds Ndigbo that this is the time to be your brothers keeper"
"President Buhari is always rattled and unsettled whenever he sees, hears or encountered the magnanimity of economical dominance and booming enterprising exploits of Ndigbo both in Nigeria and in diaspora.
"Today in Nigeria, Ndigbo owns 70% of private, economic and social investments in Nigeria, this Jewish and  Zionist advancement of Ndigbo also stretched to many countries of the universe. Ndigbo is divinely, naturally, humanly, academically, Religiously destined to lead in every field of nation building.
"Ndigbo and their Biafran brethren have never been deterred, frustrated or admitted failure in all endeavors of life, we are always progressives, Republican, conquering every obstacles of lives including the environment we found ourselves.
"MASSOB declares that any person or group of people that hates Ndigbo as a result of  religious beliefs, tribal/ ethnic sentiments, personal envy or tutorial orientation will constantly experience unfulfillment, unprogressiveness and backwardness.
"Biafrans are direct legitimate descendants of Abraham. God of Abraham ( Chukwu Okike Abiama) always bless friends of Biafrans and course our enemies.
"MASSOB wish to inform President Mohammed Buhari that all his political, economical and religious persecutions of Ndigbo and anti Igbo policies of his government will never derail, deter, frustrate or shortchange the domineering nature or economical prowess of Biafrans.
"The more our people are persecuted, the more we are united and resolute, irrespective of our Billions dollar investments and establishments in Nigeria, we shall not relent in our  genuine and legitimate pursuit for Biafra restoration.
"MASSOB reminds Igbo Leaders that Nnamdi Kanu, arrowhead of new Biafra agitation, Benjamin Onwuka, 23 members of MASSOB in Onitsha/ Awka prisons, Chidiebere Onwudiwe are still languishing in Nigeria prisons and DSS cage including Lotachukwu Okolie who is been detained in Norway prisons since 2013.
"Igbo Political, Religious, Traditional, Progressive leaders including Elder statesmen should rise up now in defence of our people and living heroes; MASSOB shall hold Igbo leaders responsible if any harm befall on these innocent Biafra detainees".