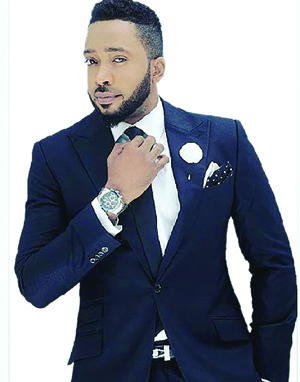 Frederick Leonard
Frederick Leonard has established himself as one of the top guns in Nollywood by a dint of hard work, doggedness and sheer talent. He has been around for quite a while and sure knows his way around the industry. In this interview, he shares his thoughts on happenings in the movie industry, and how to make the industry a better place for all.
By IYABO AINA
Tell us the things we don't know about you?
I am from Nnewi local government area in Anambra State. I am a man who loves his mum dearly; she's my first girlfriend, so every other lady should understand that and take the second spot. I am a hard worker, and a graduate of biochemistry from Kaduna Polytechnic. I've been engaged in modeling and a bit of acting. I went away for a couple of years because I needed to be sure if acting was what I really wanted to do. When I returned, I had to go in for more training, and I have been consistently doing this business for five straight years.
Share with us your foray into the movie industry?
A lot of people often ask me if I knew I would end up acting, and I say no; acting found me. I initially wanted to be a pilot. I definitely knew I didn't want a 9-5 job because I am too ambitious. I love money and there is no way I could sit down and be collecting salary, so I knew I would need something flexible so that I could have my hands in a lot of pies at the same time. I wanted to go to aviation school, but one thing led to the other, and I couldn't do that. While I was in school trying to sort that part of my life out, a family member took me to a place known as Winnies about 15 years ago where many actors used to hang out. I went there and saw what they were doing; the industry was pretty young at that time. I fell in love with the process and here we are. It wasn't like something I planned out, divine guidance brought me here. Even when I came in, I prayed to God that I want to see signs and breakthroughs.   If   you   are   in   any   business   and   you   are   not   getting   some   kinds   of breakthroughs, that means you are not called to be there. I believe in signs!
What does it take to be comfortable as an actor?
Well, it takes a holistic approach. It boils down to structuring the industry in a way that everyone becomes a beneficiary of the dividend of their sector and that obviously starts from us, actors, producers, and other practitioners. We need to make sure that we have proper distribution; only then can Nollywood make more money. We can then think of how to get rich, but for now, we are just comfortable and law-abiding citizens. The business for now hasn't gotten us rich; what it has done so far is to make us comfortable.
You are a producer and actor, how do you manage both?
A lot of people think I have lots of potentials and that I should go into producing. Maybe they are already speaking of my future and I thank God for it, because being a producer, you move from the level of being hired to hiring people. To be honest, that is not far from my plans because if I am thinking of a better Nollywood, how best can I be part of it if not to join the hustle by providing content. I am not a producer yet, but it will happen soon.
How do you combine modeling and your acting career?
I did active modeling for about eight to nine years of my life during my days in the higher
institution. But for now, in terms of showbiz, I am focusing on acting and film-making. That is not to say that I won't model; I model for people that can pay me.
What inspired you to act?
The fact that I can be part of a story that has moral lessons! It's very interesting how, as an actor, you can live different lives. I can be a pastor today and decide to be a drug addict tomorrow; we are given the chance at all times as actors to be able to preach through the roles that we play. My fan base grows everyday and I believe if I interpret my roles well, I will be able to touch the hearts of my fans and invariably contributing to making my country a better place.
How long does it take you to interpret a script?
People are very gifted in so many ways. I read through my script once and I am good to go.
When I did 'Indian Doctor,' I was pretty young then in 2008. I read the script about five times but as you know, as you grow older, you improve on whatever you are doing. Sometimes, as an actor, the first thing you do is to read the story and look into the character and see who you are in the story, if you are relevant to the plot and what the moral lesson is. That's how I go about my script; it's not just about sitting down and running lines because you'll just have what we call 'talking heads' on TV.
Who is your kind of woman?
A woman who knows God. I am not asking for an ugly woman, but I am not also looking for a beautiful one. She must have a good family background because being with a woman goes beyond looks; it goes beyond physical compatibility, it goes beyond a lot of things. I am looking at how industrious a woman is because ideas turn into money. She might not be the type that goes out every day but what ideas do you have so when we share ideas, we can come up with something. A woman who understands the value of what I call family unit; a woman who understands that divorce is not an option. A woman who believes that when she comes into my life, that we are going to work hard to make it work. I don't want to have kids from various women.
There's this rumour that you are gay, can you clarify it?
I don't have anything against homosexuals because I don't have a right as a human being who is imperfect to judge them. But I am not a homosexual. As much as I don't have anything against them, it's their lives and they have a right to live anyhow they want. Mind you, punishment for that is 14 years imprisonment in Nigeria, so if you are caught, you are in for it. I am not part of them and I will never be part of them. I love women anytime, any day. So, I don't see a reason why I will look the other way round. My loving women doesn't mean that I am loose, I just appreciate them a lot.