FIFA President, Mr. Gianni Infantino has written to NFF President Amaju Pinnick, to express delight about "a host of unforgettable memories" during the recent two –day visit of himself and Secretary General, Fatma Samoura, to Nigeria.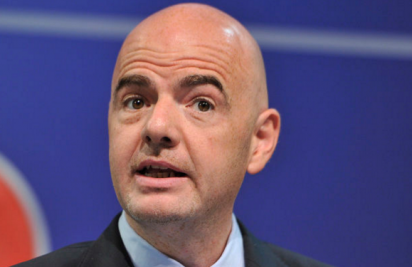 In a letter personally addressed to Pinnick, the world's number one football administrator wrote: "The FIFA delegation has now returned to Zurich with a host of unforgettable memories and having made many cordial new friendships.
On behalf of the entire FIFA delegation, I would like to take this opportunity to thank you for affording us such warm welcome.
We all will keep wonderful memories of it forever in our hearts.
"In just two days, we enjoyed so many memorable moments, culminating in the meeting with your head of state, President Muhammadu Buhari, and the visit of your headquarters and technical centre."
The FIFA President also recalled the U13 football match at the mainbowl of the National Stadium and "the evenings we shared together with the Minister of Sports, Solomon Dalung, the members of the diplomatic corps present, the football community and the Nigerian corporates.
"Finally, let me congratulate you on your engagement in developing football in Nigeria and all projects realized, creating a solid base for a positive future.
Wishing you full success in the coming matches in Brazil at the men's Olympic Football Tournament."