By Daud Olatunji
ABEOKUTA—The governor of Ogun state, Senator Ibikunle Amosun has said that any states that do not pay their workers salary do not worth to exist.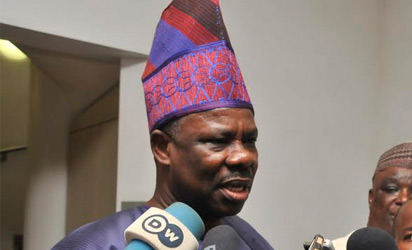 Amosun made this known at a delegates' conference organized by the Association of Senior Civil Servants of Nigeria held in Abeokuta, Ogun state capital.
The governor further said that Ogun state has been able to pay workers their June salary and is currently not owing any workers in the state both the local governments and the civil servants.
Amosun said; "A state that is not able to pay their workers salaries is having a problem and does not worth existing.''
The governor however, solicits support and understanding of the civil servants , saying, without their support, he cannot achieve anything.
While delivering his welcome address, the National President, association of senior civil servants of Nigeria and also the president, Trade union congress of Nigeria, Comrade Bobboi Bala Kaigama said that the association might wage a solidarity war against the states that are unable to pay worker's salaries in the coming weeks.
The president further demanded that the federal government should kick start the process of paying workers at the federal level all their owned entitlements.
He also called on the federal government to set up the negotiating platform that will negotiate a new national minimum wage in line with the recommendation of the palliative committee.