By Emmanuel Aziken
Governor Kashim Shettima of Borno State, yesterday declared that his administration received only N345 million cash as donations from outside interests contrary to allegations of a windfall of billions supposedly channelled to help victims of the Boko Haram insurgency.
The governor, who spoke to reporters on arrival from Abuja, said the administration since its advent also received assistance in several forms in kind from other state governments and agencies in the country.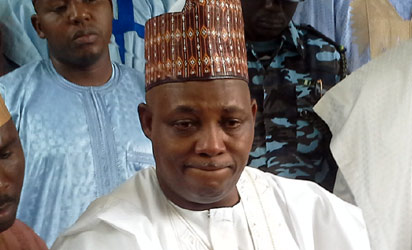 "You see, contrary to wild assumptions that the Borno State Government has received billions of cash donations in local and foreign currencies for the management of Internally Displaced Persons, IDPs, a lot of Nigerians may be shocked to know that a total of three hundred and forty five million naira (N345m) is the overall amount received as cash donation by our administration from May, 2011 to date."
According to him the Federal Government during the Goodluck Jonathan era provided N200 million, Lagos State Government, N50 milion in October, 2015, Edo State Government, N25milion in 2013, Kano State, N20 milion in 2013, Adamawa State, N20 milion in 2013 and Ekiti State, N10 milion in 2013. Others were Osun State, N10 milion in 2013, Kaduna State, N5 milion and Unity Bank, N5 milion.
He said the N345 million donation was in the face of the N600 million spent every month to cater for IDP's throughout the Jonathan era.
He also listed other interventions to include Kebbi State Government, 1,200 bags of rice; Ebonyi State Government gave us 5,000 bags of rice; Taraba gave us three trucks of highland tea and Gombe which provided six trucks of assorted food products via two interventions.
The governor added: "We have received tremendous support from some part of the International community but no foreign country or any International partner within or outside the UN and major world donors gave any cash to our administration from 2011 to date for the purpose of IDPS but rather all donations come in materials like medical supplies, technical support and food items, most of which are directly distributed by the International partners themselves to reach IDP'S in different parts of Borno State.
"Amounts you might heard through the media were not cash donated to Borno by international partners but rather, items and services worth such amount mentioned to the public. They don't give cash."