By Festus Ahon & Ochuko Akuopha, Asaba
ENCOMIUMS flowed freely yesterday as the remains of former Super Eagles captain and coach, Stephen Kashi were laid to rest at his Illah country home, Oshimili North Local Government Area, Delta State.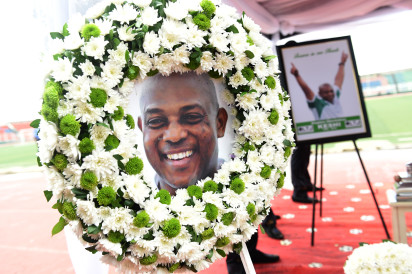 The corpse which arrived the town in a black Mercedes ambulance marked LTJ at about 9am, threw the community into mourning as his kinsmen and relations wore sad face.
The body was interred at 2pm after a funeral mass at St John the Evangelist Catholic Church, Illah.
In his homily during the service, Parish Priest of the Church, Rev. Fr.Dennis Arinze said the news of Keshi's death had remained a source of great shock ever since it broke out on June 6, 2016.
Emphasizing the inevitability of death in human lives, the cleric noted that "we have gathered to mourn Keshi, we are gathered not to commonize him but to pray God to forgive him any sin he may have committed.
"As Catholics, when we are gathered for burial ceremonies, we do not gather to flatter the dead, rather, we gather to pray God to grant the dead eternal rest."
He said "Stephen Keshi contributed to Nigeria, he contributed to football all over the world, coupled with his unequalled works to Nigerian youths and the National team. His achievements within and outside the country are rich legacies which will continue to live in our hearts.
"As a person, he was driven by a high sense of patriotism and dedication; as an achiever, he led the nation to lift the prestigious continental trophy both as a captain and as a coach. He brought professionalism, discipline and honour to football in Nigeria; as a Christian and Catholic, he was a true family man."
Stressing the need for political leaders to emulate Keshi's sterling qualities of service to the country, he lamented that Nigeria was still battling with underdevelopment and economic downturn despite being blessed with "more than its fare share" of human and natural resources.
Reiterating that Nigerians had been mentally crushed by corrupt system, he said: "Nigeria has enough for our need but not enough for our greed." He said a situation where Nigerians are hungry while its leaders were looting its treasury was not God's plan for the country.
While maintaining that the country's oppressive system was encouraging laziness and indolence, the cleric decried that "many of our youths are ready to grease the machinery of their own oppression."
Arinze enjoined political leaders to emulate "Jesus who came to serve and not to be served," adding that "heaven cannot do for us what we cannot do for ourselves. We must do unto others, what we expect others to do unto us."
Speaking during the funeral service, the State Governor, Senator Ifeanyi Okowa, noted the Keshi had seen and conquered, lamenting that it "it is unfortunate that we have to lose him at this time; it is quite excruciating."
Okowa, who was represented by the State Deputy Governor, Mr. Kingsley Otuaro said Keshi had come to "usher Nigeria and the sport loving community into a new realm of football that we cannot in a hurry forget all the contributions he made to sports in general."
He said Keshi led a life that was well lived "and as a state, we are already working out modalities to immortalize him because he actually brought excellence into the game of football. He is an integral part of us and we will not forget him in a hurry." He said the state government would also liaise with the federal government to do the needful.