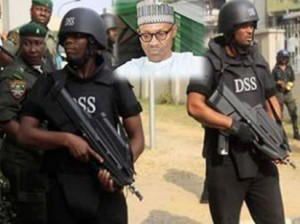 DSS
•Arrests suspects, recovers rocket propeller
•Detains 15 kidnap kingpins including abductor of Amaechi's PA
By Soni Daniel, Northern Region Editor
The Department of State Security Service, DSS, has recorded a major success against criminals posing serious challenges to the nation through attacks on oil installations and kidnap of prominent Nigerians for pecuniary gains. The DSS said last night that it foiled fresh planned attacks on vital oil facilities in the Niger Delta region by arresting the masterminds of the onslaughts before they were able to carry out their nefarious actions. A statement made available to Saturday Vanguard in Abuja by the security agency and signed by Tony Opuiyo, said the DSS also arrested no fewer than 15 kidnap kingpins from various parts of the country, including the man who kidnapped the Personal Assistant to the Transport Minister, Igo Chinda.
The DSS said all the arrests were made in the month of June through what it called 'series of special tactical operations', which led to the decimation of the criminals' hideouts. Among the key elements arrested for planning to unleash series of bombing of oil facilities in the Niger Delta region, were one Christian Oluba alias Sensor, who the DSS described as a militant with the Niger Delta Avengers. According to the agency, Sensor was arrested still perfecting plans to carry out attacks on critical oil and gas pipelines, including storage points. Also napped and taken into the custody of the agency, is another NDA member, Selky Kile Torughedi, which DSS described as an ex-militant and a close associate of Government Ekpomopolo, alias Tompolo.
Torughedi, who was arrested in Calabar, Cross River State, was said to have carried out reconnaissance on the home of a serving military officer, M.B.Yahaya, in Kaduna and was about to assassinate him before being arrested by the DSS. The suspect was said to be assisting the DSS with leads into the crime and those associated with him. Also in the custody of the agency is one Ifeanyi Michael Onyike, a suspected kidnap kingpin, who operates from D-line, Port Harcourt in Rivers State. Onyike is said to have spearheaded the kidnap of Ebere Chinda, wife to Igo Chinda, the Personal Assistant (PA) to the Minister of Transport, Rotimi Amaechi.
In a related crime, the DSS has in conjunction with the Nigerian military and the police, arrested one Nanpon Sambs (aka Yabam), an illegal arms dealer in Langtang North LGA in Plateau State. The suspect is believed to be a strong member of a notorious black market arms syndicate led by one Peter Nehemia (aka Adagyo) which operates in the State. The DSS said it recovered a Rocket Propelled Grenade (RPG) launcher and circuit charger from a Toyota Highlander SUV belonging to the suspect while conducting a check on him.
Meanwhile, the service has arrested one Chidiebere Onwudiwe, a graduate of Mechanical and Chemical Engineering and known member of Indigenous Peoples of Biafra, IPOB, for plotting to attack public places and churches. According to available information, Onwudiwe and his associates within and outside the country, were planning to carry out coordinated attacks against religious bodies/edifices, police check points, and the Computer Village in Ikeja, Lagos State, with Improvised Explosive devices (IEDS).
Luck however ran out of the suspect when he was arrested by the DSS while making logistics supplies for their nefarious plan. Beyond them, the DSS also picked up no fewer than 15 kidnap kingpins across Nigeria last month. In Kogi State, one Kabiru SHUAIBU, said to be the ring-leader of a kidnap gang, comprising his accomplices namely: Haruna Saleh, Tukur Shuaibu and Abdulmumuni Adamuna, were arrested by the Service along Murtala Muhammad Bridge, along Lokoja-Abuja Highway, in Lokoja, Kogi State. The suspects were part of a criminal gang which has been terrorizing innocent citizens in the Northern region of the Federation.
It was learnt that during their arrest, a locally-made pistol, seven cartridges, 14 mobile phones and N615,000 were recovered on them.  Similarly, in Akure, Ondo State, one Reuben Akinbehinje aka Chairman, the ring-leader of a notorious kidnap syndicate, was arrested by DSS along with five other members of his gang namely: John Imoleayo Uche, Seun Lajuwon, Seun Iseoluwa Akintayo, Lateef Fayemi Hammed and Saheed Oyewo. "The Akimnbehinje gang has been the brain behind the kidnap of two Catholic nuns in the State and other criminalities such as armed robbery, hijack and diversion of fuel tankers and cult-related activities in Ondo, Oyo, Osun, Lagos and Kwara States," the Service said.
Up north, the DSS said it arrested one Sani Abdullahi, and his three accomplices, namely Rufai Tukur Abdullahi, Najeeb Abubakar and Abdullahi Ahmed, were apprehended by this Service. "The group had concluded arrangements to embark on serial kidnap of high-value targets in Katsina State, before their arrest. This gang has hitherto been terrorizing the North-Western States of Kano, Katsina, Kebbi and Zamfara. "The Service is availed of intelligence which indicates threat by extremist elements to attack selected locations across the Federation, particularly parks and congregations of worshippers, in order to further their cause"
"The Service wishes to state that it will continue to deploy every window within its constituted mandate to ensure the security and safety of all law-abiding residents and citizens wherever they reside. "We therefore call on the general public to be security-conscious and to report any suspicious persons/groups or activities to relevant security agencies". To stem the tide of criminality during the Eid-el-Fitr, the statement advised Nigerians to be wary of suspicious objects and movements and report them promptly to security agencies for necessary actions.