By Emma Ujah, Abuja Bureau Chief
ABUJA — The Minister of Finance, Mrs. Kemi Adeosun, has cautioned against panic over the recent liberalization of the exchange rate by the Central Bank of Nigeria (CBN).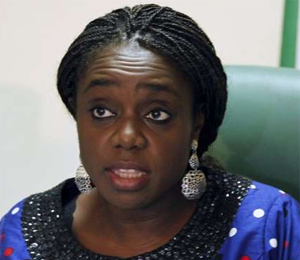 Her Special Adviser Media, Mr. Festus Akanbi, quoted the minister as saying in a statement in Abuja, yesterday, that the market could overreact over such adjustments, saying the market would correct itself.
She said: "As the Central Bank has recently liberalised the exchange rate management, I urge you not to panic by joining those who economists terms as irrational. The rate will need time to settle into a predictable path that will be driven by fundamentals.
"Typically with such adjustments, markets will overreact and later correct back down to a fundamentally driven level and the naira will be no exception. Flexible exchange rates will allow our currency to adjust based on fundamental and known drivers.
"I point out that the recent Brexit announcement has seen the pound under pressure, so it is a normal economic phenomenon and not a trigger for panic. Nigeria is going to rebuild stronger with a more resilient and diverse revenue base and I believe that the currency will ultimately reflect this."
Mrs. Adeosun also called on Nigerians in the Diaspora to see the current economic realities in the country as good opportunities for them to participate actively in the ongoing efforts to reposition the nation's economy.
Her words:  "What Nigeria needs now is Economic Patriotism that will support this administration's efforts to reposition the economy.
"We must never become so comfortable abroad that we forget or worse still despise our roots. Rebuilding Nigeria is an important mission for the next generation, who deserve the chance of a Nigeria that provides opportunities for them.
"Other diaspora communities retain strong links to their motherland and we must do so in order to retain the fabric of our families and our value system."
She pointed out that the current administration is rebuilding Nigeria based on fundamental values that shaped the childhood of many people but which were sadly abandoned by a few in pursuit of aggrandisement wealth that they can never spend. Those fundamental values, according to her, include hard work, enterprise, honesty,and self-reliance.
Calling for understanding and patience on the part of the citizens, Adeosun explained that fundamental shifts need time to be developed properly with adequate windows for consultation before they can be successfully implemented.
"However, once implemented they will be permanent in ensuring that we maximise all our endowments to compliment oil, rather than relying on oil which has created 'economic laziness'," she stated.
The Minister noted that Nigeria has in the past spent like a stereotypical oil economy, which has lots of oil and a low population. She said in reality we have some oil but a very large population.
"Our 2.2 M bpd must be shared by 170M of us whereas Kuwait has 2.9M barrels and 4.1 M people. So we simply cannot afford to operate as if oil was unlimited. That adjustment should have happened many decades ago and had it been done we would not be experiencing our current challenges."
Speaking on measures being put in place to ensure the safety of remittances to beneficiaries in the country, the Minister said improved mechanisms had been put in place to continue to ensure that funds reached their intended recipients.
These measures, according to her, included a combination of the introduction of a more flexible exchange rate, which closes the gap between official and parallel market rates on one hand, and the improved technology and e-payments systems as are being advocated for use in the Federal Government's recently introduced Social Welfare Programme.
She stated that the fight against poverty had, for the first time ever, been embraced formally at Federal Government level, with the inclusion of N500 billion in the budget for social intervention programmes, adding that supporting the poor was a responsibility of the entire Nigerian community, including the diaspora.
She stated:   "Remittances are a key part of our national income and this points to the strong family ties that form the fabric of Nigeria's society and this we must not lose sight of.
''As emigrant remittances are very stable it is important that they are channelled into where they are most needed, we will create investment products and opportunities that will encourage and incentivise you to remit funds."