By Prince Osuagwu & Emeka Aginam
THE  Information and Communications Technology (ICT) accessories market located in Ikeja, Lagos is about the largest ICT accessory market in  Africa.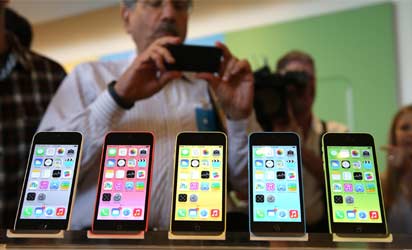 Apart from  information and technology accessories, the market also has computer engineers and technicians who specialized in the repair of faulty computers and mobile phones.
The market which opens on a daily basis except on Sundays and public holidays has enviable popularity that has attracted new investors and ICT dealers across Africa, which incidentally expanded the market size and population with profound effects on Lagos State economy.
The unique characteristic of this market is its compliance with  Perfect competition  setting where no trader or group of traders has the power to influence the price of products.
This singular factor has made products cheap and affordable in the market and attracted multitude of gadget lovers, especially mobile phone freaks who go there to explore the latest and innovative offerings and subsequently buying same.
However, recent investigations reveal that this is no longer the situation. Prices of products especially mobile phones are now going up in the market such that users are resorting to patronising the grey market and unauthorised dealers on the roadside markets than going to the computer market.
Vanguard Hi-Tech investigations, however, reveal that this present situation is neither because the setting of the market has changed nor that dealers or their groups are now influencing market prices.
Many  factors have contributed in whittling down the power that made the market a toast of  all phone lovers. These include unstable exchange rate, illegal levies, extortions, exorbitant and double taxation and high cost of cargo clearing and import duty. All of these are putting the dealers on the edge as they have no option than passing the costs to end users.
Some of the dealers who spoke to Hi-Tech but preferred that their names are not mentioned, lamented that they pay in excess of N15, 000 daily on taxes and levies, which are in many instances, duplicated.
One of them said: "Today, apart from forces of demand and supply that can always push up price of devices in the market, these factors are majorly why price of mobile phones like Lumia, BlackBerry, Samsung, LG, Tecno, Huawei, among others now go up".
Cost of clearing:"Why would anybody expect us to sell at affordable prices like before when we pay through our noses to clear the goods?.  Officially, it costs about N850 to clear one Kilogramme  of phone.  When we say one Kilogramme, we are just talking about three pieces of phone. But now, by the time we are through all huddles the customs set in the process of clearing, a dealer would have spent about N7,627 to clear one kilogramme of phone.
"A bag of phone usually will contain 40 to 50 pieces of mobile phones. There is no reason why cost of phones will not go up with what is playing out in the clearing process.
Unstable forex regime
You can now imagine why even the Nokia 105 that used to sell for N2,900  now goes for about N6,500. The situation is getting terrible", he added.
Forex: Another dealer who took Hi-Tech into confidence also lamented the unstable forex regime and asked the government to do something fast if the prices of things must go down. He said that the continuous depreciation of the naira at the international market, is one reason they are jerking up prices of devices. He regretted that Lumia 930 that he used to sell at N98,000 when it was launched now goes for about N110,000 in his shop. "If the exchange rate is stable, the cost of this device should be dropping instead of going up because it is not even the latest in the line up" he added.
Power:Power problem which is a general disease in Nigeria is also crippling the business of phone sellers in the market. Some of the dealers cried out that they spend huge sums to generate power which is necessary in the running of their day to day businesses. Big vendors, like IT World, Dallas Communications, Micro Station, Slot, Gafunk, among others, said they spend in excess of N5,000 per day and N30,000 per week, to generate power for their businesses. What this means is that this amount would be spread among the products on display and eventually, the price is paid by the final consumer.
Taxes: The computer market has also been discovered as a major cash cow of the Lagos State Government following levies and taxes collected. The dealers said that each shop pays about N5,100 per annum to the State Government. In addition to this, there are also company tax and personal income taxes paid by workers of the same companies.
In fact, a trader who was happy to give details to Vnguard, stated that:"Every member of my staff pays tax to the government.
Users of products and services
The Lagos State Waste Management Authority (LAWMA) also comes to collect their own. The Health workers collect their own. All these are double taxations. At the end of the day, the end users of products and services bear the brunt", he lamented.
Illegal levies: He further lamented illegal levies which have been made compulsory for traders in the market.  "On daily basis, we pay Community Development Association, CDA, N300; Police, N300; Kick Against Indiscipline (KAI), N500; Lagos State Government Ministry of Environment.N500; and Street urchins also come on daily basis to collect fees which depend on your power of negotiation.
"Do you think that the prices of devices will ever remain the same with all these extortions? It's impossible! He exclaimed.
Confronting the leadership of the Computer and Allied Products Dealers Association of Nigeria with these myriad of problems the members highlighted, a member of the exco and Public Relations Officer of the group, Mr Godwin Enamor, said there were expectations that the market will wear a new look soon and appealed to the government to provide enabling environment for every business to thrive in the market.