By Favour Nnabugwu
The Central Bank of Nigeria (CBN) and the National  Identity Management Commission (NIMC) acknowledged the impact being made by the global organisation Mercy Corps and MasterCard, highlighting the role of the National eID (NeID) card in empowering 18,000 women and girls in the northern part of Nigeria. Mercy Corps is a global organization that empowers people around the world including Nigeria, funded by the British Department for International Development (DFID) which came into the country in 2013.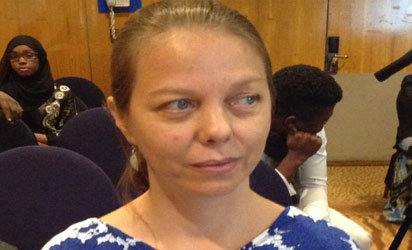 Country Director of the MercyCorps in Nigeria, Mrs Iveta Ouvry in Abuja on Tuesday, said the agency has helped young women overcome the obstacle of identification and provide the critical skills training to enable them to thrive. She said, "We set a goal to provide 18,000 adolescent girls with a NeID linked to a mobile savings account."  "MercyCorps is using the Nigerian Identity Management Commission (NIMC) e-ID card to pay transport allowance and others into the women and girls accounts, she added.
Place of internship
It will be recalled that Nigerian law requires a person to present official identity documents (birth certificate, passport, driver's license, voters card, etc.) in order to open a savings account or apply for credit from a financial institution; MercyCorps assists the adolescents and girls to open accounts using the e-IDcard. "We give an upward of N10,000 monthly. It is essentially to cover their travel cost and food. So they are not being paid to learn but we have to keep in mind that these are the poorest of the poorest girls, they don't have money to take tricycle or a motorbike to the place of internship."
She continues, "In Nigeria our programme is focusing on four areas; the first one is adults and girls, we are focusing on economic empowerment of adults and girls. So essentially we are helping them on how to start small business or to get an employment."
Ouvry said, "This is one of the elements of empowerment because we believe like you and me, unless you have access to financial services, unless you have banks accounts, unless you know how to save the money, how you manage your money, unless you have a place where you can put your money safely this is hampering pure empowerment and economic growth."
Training and skills
The MasterCard-funded Accelerating Savings and Strengthening Entrepreneurship Training and Skills (ASSETS) program, is implemented by Mercy Corps and seeks to improve the lives of young women by connecting them to financial literacy and entrepreneurship training and financial services. Programme participants are registered to receive a NeID, which in turn is linked to a mobile savings account.
According to the World Bank, only 47 percent of women worldwide have access to formal financial institutions, compared to 51 percent of men, and more than 1.3 billion women are excluded from the formal financial system. In Africa more than 70 percent of women are excluded from formal financial services. Globally, nearly 2.4 billion people live without any form of official personal identification, and the majority of them are women.
"By connecting young women with resources and education to boost their financial literacy, leadership skills and economic opportunities, we can help them see that a bright future is possible," says Iveta Ouvry, Nigeria Country Director for Mercy Corps. "Adolescent girls play a key role in transforming their communities and countries for good, which is why we're focused on empowering this key demographic."
MasterCard, Mercy Corps and the NIMC are committed to providing participants in the ASSETS program with access to financial tools and entrepreneurship training. To date, 2,219 girls have been reached. This NeID card enables electronic transactions, which gives them access to a wide range of financial tools and services for the unbanked and under-banked.
"We realise that to truly empower impoverished communities here in Nigeria and around the world we need to empower women through financial inclusion," says Omokehinde Adebanjo, Vice President and Area Business Head, West Africa, MasterCard. "Lack of identity is a critical barrier for women seeking to vote, own property or open a bank account. Together, we are making a real difference in these women's lives and encourage an entrepreneurial spirit through the training."
The partnership has made real strides to empower young women by encouraging them to take control of their own future. The reality is that for many young girls school is not seen as a priority, but through the Mercy Corps programme they are able to access the alternative resources they need to learn, grow and build a brighter future. For twenty year old Tawa*, the prospect of a successful future seemed unobtainable when she was forced to drop out of school at the age of 16 because of the lack of funds for a uniform, or even basic necessities.
Basic necessities
Tawa joined the ASSETS programme and learnt hairdressing skills such as washing hair, braiding and making wigs, which has enabled her to save money. She has a dream of owning her own salon and the programme has taught her how to save and spend wisely.
Akhanni* left school at the age of twelve and lacked the ability to change her circumstances, but it was her father that pushed her to enrol in ASSETS. It was here that she flourished and became a photographer after completing a nine-month photography course. She has also saved money for her very own professional camera to start her own business.
MasterCard hopes to create long lasting solutions to reduce poverty in Nigeria. "In support of the Cashless Nigeria policy, we have seen great progress, however, challenges still exist. Our partnerships have been key in overcoming these challenges. We remain committed to moving towards a world beyond cash by implementing new payment solutions and our partnership with Mercy Corps is testament to this," Adebanjo concludes.