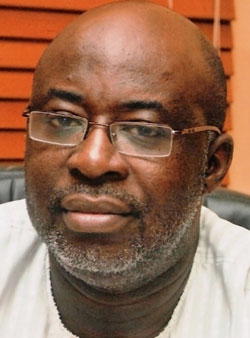 Seyi Akinwunmi, NFF 1st Vice President
The Flying Eagles won't be going on strike thanks to the timely intervention of the Vice President of the Nigeria Football Federation (NFF) Seyi Akinwumi who gave the cash strapped team a gift of N5 million ($17,000).
Since the start of qualifiers for next year's Africa Youth Championship, the Nigeria Under-20s who have won all of their games so far are yet to be paid their match bonuses, camping and travelling allowances.
The situation led to a planned strike action ahead of their Saturday game against Sudan, the reverse tie of their 2-1 win in Omdurman two weeks ago which is scheduled to take place in Lagos.
However Barrister Seyi Akinwumi's financial gift has calmed the situation in the camp as the players who have been persuaded from going on strike by their coach Emmanuel Amuneke on two other occasions agreed to call off their threat.
Responding the coach thanked the Vice President of the NFF but called on the football body to treat the issue of players welfare with more seriousness as it could lead to an embarrassment for the nation if not checked.
However they are still reports circulating that the coach and his backroom staff are yet to be paid any form of salary since they were officially appointed as coaches of the U-20s eight months ago.