Trust ye not in A FRIEND, put ye not confidence in a guide: keep the doors of thy mouth from her that lieth in thy bosom. For the son dishonoureth the father, the daughter riseth up against her mother, the daughter in law against her mother in law; a man's enemies are those of his own house.  – Micah 7: 5-8
By CHIOMA GABRIEL, Editor, Special Features
How would you rate the man at your gate, who opens your gate every morning as you drive out and every night as you drive in? What can you say of the man that drives you, the one that drives your spouse and your children to and from school. Who serves you food everyday? Who are the people in your home: the washerman, the plumber, the electrician? Who are the friends who visit you or your children? Their lesson teacher at home and all the others that you trust so much.
When the former Vice-Chancellor of the Federal University of Technology Akure (FUTA), 78-year-old Professor Albert Ilemobade was declared missing, nobody imagined he was butchered by those of his own house-hold. Nobody imagined his lifeless body would be found decomposing inside the garage of his Ijapo Estate, Akure home. Nobody imagined Prof. Ilemobade was killed by two of his domestic workers, his former driver Olayemi Bamitale and the security guard Daniel Ita. The duo admitted strangling the ex-FUTA VC to death with the aim of stealing his recently purchased Toyota RAV 4 SUV.
In their confessions, they admitted calling out the old man from his window and he came out through the kitchen. They told him a fire outbreak had occurred and immediately he came out, one of his domestic staff pounced on him and strangled him till he died. They dropped his body at the store near the car park so that people would not see.
The above narration is a familiar scenario in the Nigeria society.
They are in every home. The cook. The gardener. The driver. The house keeper. The  maiguard. And so on. Some are good. Some are bad. Others are ugly. They also include the pastor you trust so much and allow into your home. Your children's' teachers. Visiting relatives. Or even a live-in-lover, etc. The 'house-help', 'domestic' or 'servant' has become synonymous with most elite families in Nigeria. These people who work behind closed doors in private homes carrying out domestic chores including cleaning of rooms and furniture, washing of clothes and plates, preparing food, running errands and escorting their employers' children to and from school'.
But Nigerians go for them with a reckless abandon. In these days when both the man and his wife struggle for space in the boardroom, the family is left at the mercy of these strangers.
Professor Ilemobade was not the only victim of his own employees.
The litany of woes
The cases of Nigerians killed or robbed by their domestic staff are rampant. About a year ago, the Orekoya family on Lawanson Road, Surulere, Lagos employed a house-help who later disappeared with their three children a day after she was employed. The house-help was reportedly contracted via OLX, an online sales portal. The house-help had applied and a day after getting the job, she hit the family and disappeared with their three children. But for the grace of God in the life of men, those children would have been history.
The three kids were later found in an uncompleted building at Akowonjo, an Egbeda area of the metropolis of Lagos state. Police authorities claimed that the kidnappers abandoned the kids in the building when they knew that the police were closing in on them. In her confessional statement to the police, the house-help claimed she was allegedly pushed into the act by her husband. According to her, the family runs a kidnapping business, adding that her husband was the head of the gang. When she was paraded at the Lagos State Police Command Headquarters in Ikeja, she said it was the second time she was involved in the abduction of children in the state. She said the first was the kidnapping of two kids in the Magodo area of Lagos State.
A member of the family of the kidnapped victims alleged that the couple paid millions of naira as ransom before the kids were freed. Just recently, a driver to a Port Harcourt-based lawyer identified as Jerry Igiri was arrested by operatives of the Rivers State Police Command for kidnapping his employer's four-year-old son. After committing the crime, the driver still had the effrontery to join a search party that tried without success for 17 days to locate the boy he handed over to his kidnap gang.
The boy was taken away inside their house while her mother was preparing his lunch after he arrived from school. The driver had handed the four-year-old boy to a lady, who is a member of the kidnap gang and immediately, pretended to be sleeping in his employer's car while the mother, Mrs. Tenelor searched for her child around the compound to no avail. The family was lucky. The police suspected foul play and worked on it.
The driver confessed to the woman that he arranged the kidnap of her son, blaming his action on the work of the devil. He had worked with Mrs Tenelor for four years and was trusted. The family never knew he was bidding his time. Last December, one Solomon Michael, a driver and suspected kidnapper confessed that he robbed and plotted the kidnap of his boss, one Alhaja Modupe Idris, a business tycoon in Idumota and her sister, Alhaja Risikat Laminu.
The suspect who was paraded at the Lagos State Police command, Ikeja alongside four others told the police that four others assisted him in executing the plot. Solomon Michael had arranged with his gang to trail Alhaja Modupe from her shop to Surulere area in Lagos, at 9:30p.m, where they hit her vehicle from the back, feigning an accident. Immediately her driver, Michael, stopped the vehicle to check the extent of damage the accident caused, the gang struck, robbed and kidnapped Alhaja Modupe, her sister, Alhaja Laminu and her housemaid, who were inside a black Toyota SUV with number plate-LSR871BM.
They were said to have also collected N1.2 million and other valuables from her before taking them to a bush somewhere at Ijebu-Ode area. In his confession to the police, Michael said, "I plotted to rob and kidnap my boss because she was maltreating me…" In Calabar, an alleged attempt by one Mr Hope Akpan , driver to the owner of TUNS 7 showroom in Calabar, Mr. Tunde Osisanya, to kidnap his boss failed. Akpan, who allegedly arranged the kidnap of Osisanya was later picked up at Ugep, Yakurr Local Government Area, with another member of his gang.
Luckily, Osisanya miraculously escaped after an armed gang of three in collaboration with his driver attempted to kidnap him. Osisanya and his driver were going somewhere when suddenly, the driver stopped on the road in the broad-day light pretending that the car had developed fault. He went out of the driver's seat, opened the trunk of the car and came back to his seat. A group of boys suddenly jumped into the vehicle, dragged the owner of the car out and tried to force him into the trunk of the car. They threatened to shoot him, but after all efforts to force him into the car trunk failed, they brought him back to the back seat and at gun point, forced him into the back seat of the car.
While this was happening, the driver did not bother to engage the gear. It was after he knew that the assailants had forced Osasanya in that he moved the car. But divine intervention helped him escape while the group drove off with his car and valuables. The car was spotted the next day somewhere in Ugep, Yakurr LGA, after the attention of natives was drawn to strange boys and a vehicle parked in an uncompleted building. They were all arrested and they made confessional statements to the police.
Your cook can poison you
In April last year, two cooks, who are nationals of Benin Republic, Victor Hounkpe and David Amusu, poisoned their employer's meal so as to cart away valuable items from the house. The cooks identified as Victor Hounkpe and David Amusu were arrested by the Lagos State Police Command after poisoning their employers' meal in the Lekki area of the state. Their ordeal began on Wednesday, April 22, when 34-year-old Victor Hounkpe, allegedly poisoned a vegetable soup he prepared for the family.
Shortly after consuming the poisonous soup, the husband, Nwogu Chinaka, reportedly started complaining of severe stomach ache and collapsed, and was taken to a nearby hospital by his wife, Omowunmi. The wife also collapsed at the hospital gate after complaining of severe stomach pain. Both couple were said to have been treated in the same hospital. The security guards and other domestic workers who ate the poisoned meal also became unconscious and were hospitalised. Both Hounkpe and Amusu were said to have fled the house.
When the police eventually caught them, the cook, Victor Hounkpe, a Beninoise,confessed that the plan was to inject poison into the food of his boss and his entire household and later steal his belongings. Hounkpe, who was placed on a monthly salary of N50,000, confessed that his friend, the couple's former cook, was his accomplice in the dastardly act.
Don't trust that man of God
Early this year, a self-professed man of God was reportedly arrested for allegedly impregnating two sisters. The pastor, it was gathered, also allegedly attempted to sell their father's two-storey building without his consent. The pastor was allegedly invited to set up his church and manage a flat in the sisters' father's compound when he had accommodation problems. The brother of the victims told a national daily: "My brothers and I bought my father a two-storey building in Abule-Egba and at that time, the pastor had rent issues. My father allowed him to set up his church in his compound and also manage a flat. We never knew that was the beginning of our problems.
"The pastor held several vigils to create awareness and public attention. As time went on, he invited people to stay in the church and from the church they moved into the main house. "Months later, the pastor said he wanted to marry my 20-year-old sister, whom she deflowered and who just graduated from secondary school. We never knew he had been sleeping with her for months before then. Recently, we found out that he also impregnated my 25-year-old sister who has been indoors for the past nine months."
When love becomes blind and kills
In January, the International Police in Benin Republic arrested the man who killed his live-in-lover on Christmas day at the Festac area of Lagos State and disappeared. The suspect, Monday Hounga, 28, was arrested at about 11:45am by a Nigeria/Benin joint patrol and handed over to the State Criminal Investigations Department of the Nigeria Police at Panti, Yaba, Lagos State. The suspect and his lover, Cecelia had a disagreement on Christmas day which culminated in a bloody fight during which the victim was stabbed to death.
In Ilorin, Kwara state April this year, a young man reportedly said to be a franchise officer with multi national telecommunications company, MTN, was declared wanted by the Kwara State Police Command for allegedly stabbing his lover,  Tosin Ashinwo, to death because she refused his marriage proposal. The deceased's mother was also stabbed by the man when she tried to prevent him from killing her daughter, who also worked with MTN as an online customer representative, inflicting severe injuries on the woman which landed her at the University of Ilorin Teaching Hospital (UITH) for treatment.
According to police investigations, the unnamed man and the late Ashinwo had been dating for quite a while but were having serious disagreement over marriage as the lady was not disposed to getting married to the man because of his abusive nature and temperament and because he allegedly went out with several other women at the same time.
Strangers in your home
Nigerian homes are littered with all manner of strangers. A media practitioner, Yinka said he had tried to engage the services of a driver on many occasions but his wife would not let him. According to him, "My wife thinks drivers know too much about a man and wouldn't want any in the family. Our children are made to learn to drive. In fact everyone in the family drives himself." Sharing a particular experience, Reverend Kingsley revealed how a driver almost separated a man and his wife in the church.
"The man committed an evil deed that involved impregnating another woman and he went behind to marry the other woman because his own wife had no child. The church got to know about it and we called the man and he confirmed that it was a mistake but that he married the other woman because her family insisted. He wanted to avoid scandal and he married her secretly. They already had three children before we got to know but this is not something you talk about openly. However, the driver of the man who knew everything went to discuss with some women in the church who now went to sympathise with the man's wife for her husband's misbehaviour. And all hell was let loose."
In February 16, 2013, Henry Chibueze, a notorious kidnapper terrorizing South East and South South parts of the country, stormed the home of his girlfriend, Sandra Ijedinma, at Igando area of Lagos State, with an AK47 assault rifle and opened fire on everyone present in the apartment, killing his girlfriend, her elder sister Praise Ozor, and her two children. Not satisfied, Henry proceeded to a nearby street where one of Sandra's elder sisters resided and killed the woman and three of her children, before fleeing.
His anger was said to have been that Sandra, who was an optician with Madonna University, had called off their relationship, when she learnt that he was a kidnapper. Sandra's twin sister, Katherine who sustained a bullet wound during the attack had told Vanguard in 2013 that the assailant was familiar with everyone in their family but nobody knew he was a kidnapper .She explained that her late sister used to visit Henry at his base in Delta State and in one of such visits, some heavily armed men stormed Henry's apartment, manhandling Sandra in the process.
The big question
So, who is the stranger in your home? Is it the house help that could become a co-wife and drive you out to occupy your position? How safe are your kids with the nanny, the visiting relatives, the dry cleaner that comes around occasionally? Do you trust that driver so much to leave your family and kids at his mercy?
You often give food to the  mai guard  and send him on errands in the house. How trustworthy is he?
A story was told of a pastor who loved his  mai  guard so much that he made him a part of the family. He had a church programme one weekend and spent most time in the church with his family. By the time he returned after Sunday service, his  mai  guard and his gang had used a ladder to open a hole on the roof through which they gained access into the house. They carted away valuables in the house including the money realised from the church programme the day before. Or have you not heard of the lesson teacher that was coming to the house and ended up impregnating his student?
Has it ever crossed your mind that your lover in your home is a danger to you?
What about your kids? Who are their friends and the friends of those relations who visit occasionally or are even living with you?
A witch is a witch, white or black and the truth remains that no matter how nice you are to the bad guy around you, he is still a bad guy. Answering a question on the issue, Reverend Father Peterson talked about the other side of the story. "There are middlemen who often traffic girls and boys from different parts of Nigeria or from abroad and set them up with jobs as domestic helpers. Some then work with them to steal from clients. A good number of these are trafficked from Nigerian states like Kogi, Benue, Cross River and Oyo as well as neighbouring countries such as Benin and Togo. The agents then advertise in newspapers for families looking for domestic help. They negotiate a salary on behalf of the housemaid or male servant and take a cut as commission.
"  A woman I mentored once came to me and said she had found a good job but that she would need my connections. I asked her what manner of job and she said she now helps families to get domestic servants. I asked if she registered a company and how she came about these servants and she began a long story that ended nowhere. " What I am saying in effect is that these fraudulent domestic help work in tandem with those that connect them to the family. These agents are not really nice. They introduce witches, thieves and all manner of criminals into families"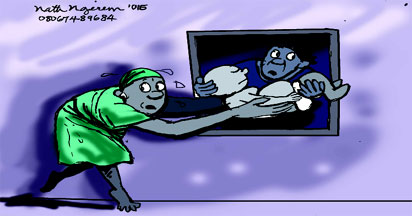 In a presentation she made sometime, Betty Abah, the Executive Director of the non-profit organisation Centre for Children's Health Education, Orientation and Protection Nigeria said the problem of criminality needed to be addressed. "Greedy agents place these maids in homes like a mere commodity without any iota of humanity. That is why fraud can be perpetrated by these agents and the maids. More so, there is no background check on these maids before they are employed."
Speaking in an interview,  Mrs. Bimbo Williams-Okpabi, Secretary, Customs Officers Wives Association, Seme Chapter said the rising cases of devilish domestic servants plotting to harm their bosses has become alarming. "There should be a certified and professional board that should be in charge of procuring domestic helps in this country. This will go a long way in sanitising the domestic service industry.
"The practice of calling on a friend or a scout to help look for maids from nearby states or across the borders should be scrapped. Measures should be put in place to deter criminally-minded people from using the service industry as a cloak for their clandestine activities. "Not only do they engage in robbery, some domestic servants sexually abuse the children they are paid to watch over. So the ripple effects continue. Cheap labour comes with a price; a price which could be death. The earlier we nip this in the bud, the better."
Why we don't want them
Explaining why she doesn't want them, Mrs Juliana Ikedi, a civil servant said she and her husband don't want them. "  I live alone with my husband and our three children. At present, they are in the boarding school and my husband and I live alone. No house-help. We had them in the past but they failed us. Our  kinsfolk failed, and our familiar friends failed too. Even blood brothers failed. If the people at home don't sell you, those outside won't buy you. You know one thing, these household enemies are dangerous because you are usually less cautious with them. You usually have no problem dealing with known enemies. But you lower your guards at home because you believe you are in the midst of people who love and care for you.
"The wickedness of some people has no foundation or basis. This is common among house helps who are witches or wizards or relations who are witches and wizards. We have lots of stories of how families have been wrecked by these wicked beings.Those who really need them should be on their guard. We all know the story of Ese Oruru and how she was abducted by a domestic servant Yunusa Yellow from Bayelsa to the North.
"Some of the domestic helps come into your home with the intention of ruining it. The females would want to seduce your husband and have other ulterior motives. Another maid wanted to leave after two days, yet, we had paid the agent that brought her three months salary in advance. We tried to explain the situation to her and all our pleas and entreaties fell on deaf ears. We had to involve the police.' Now, we don't need them anymore.'