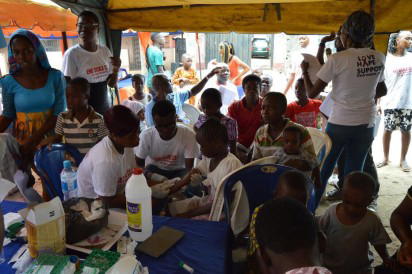 In commemoration of the World Sickle Cell Day, a Lagos-based Non-Governmental Organization Nirvana Health Initiative stormed the backwater community of Igbo Elerin nestled inside Ojo local Government Area of Lagos.
The group armed itself with the mission to propagate awareness of Sickle Cell Anaemia which according to statistics now affects about four million Nigerians most of whom are based in rural areas like Igbo Elerin.
Led by 25 year-old Modupe Babawale, a Sickle Cell survivor, officials of the NGO fanned out on Saturday, June 18 where they interacted with residents of Igbo Elerin in the one day programme. The team broke into three different arms including medical, counselling and administrative to effective cater for the obviously eager participants.
Nirvana Health Initiative aligned with corporate organizations including Access Bank Nigeria, GSK Pharmaceuticals and makers of Jobelyn.
Explaining the choice of the community, Babawale, Cordinator for Nirvana Health Initiative who prefers to be described as a Sickle Warrior (not Carrier) identified low awareness among rural dwellers as the bane for the prevalence in Nigeria.
"It is rural outreach where we talk to people about Sickle Cell and run free Genotype and blood group Testing. We are also providing free medication for people affected with Sickle Cell. This is our first outreach and we are happy to be well-received by the community members. As at half day, we already counted over 200 though we catered for 300. People at the rural community lack access to real information.
"Some of them were initially scared because we have to take their blood samples. But as we proceeded and as they saw some of their people participate, they began to turn up. The outcome has been very encouraging. We ensured that we requested parental consent for children and teenagers below 18.
According to her, the organization which was set up in 2015 has some big plans to reach other rural communities and educational institutions with awareness about Sickle Cell.
There is not a lot of efforts going into Sickle Cell Awareness campaign. First of all, Sickle Cell affects about four million Nigerians and this situation is compounded by stigmatization and misinformation. Of course, there are a lot of organizations working but the efforts need to be more concerted under one umbrella. This has been achieved with breast cancer, HIV and polio. We need all hands on deck. At the policy level, I think we should institute Genotype and Blood testing from birth. Every child needs to have these details from birth so that we can end Sickle Cell in this generation. But all hands must be on deck to achieve that.
While sensitizing the audience, Dr Adeniyi Olumide Emmanuel used diagrams to explain Genetic Compatibility, blood groups and genotypes. According to him, information about these will help to know the type of blood each person has and influence choice of who to marry. He also went further to identify symptoms of Sickle Cell Disease while calling on community members to identify such persons and encourage to seek medical attention.
Kamorudeen Ishola, Civil Servant whose four children are beneficiaries of the Sickle Cell Outreach revealed that although he has heard about the genotype and blood test but doesn't its difference or implications.
"I used to a neighbour's child who had something like this but they have now left our neighbourhood. She used to feel pains all over her body. I am happy that none of my children have this kind of symptoms in their body. I just will like to thank the organizers for providing this free opportunity. We call on them and other people to bring such initiatives to our community. We will back them."