By Abdulwahab Abdulah
Maritime Advocacy Group, MAG, has faulted claims by the Acting Chairman of Economic and Financial Crimes Commission, EFCC, Mr. Ibrahim Magu, that former Director General of Nigerian Maritime Administration and Safety Agency, NIMASA, Temisan Omatseye, was convicted by the Federal High Court over N1.5 billion contract scam.
A statement by MAG's President, Ifeanyi Okolie, noted that there was nowhere in the judgment delivered by Justice Rita Ofili-Ajumogobia which indicated that Omatseye was convicted for fraud. It said the court rather convicted him for approving contracts above his threshold, a matter which, it said, was now a subject of appeal.
The group, which described the statement attributed to Magu on Omatseye's conviction as part of the 140 convictions secured by EFCC in six months as "misinforming the public," noted that the EFCC chairman in the statement failed to state what transpired in the court.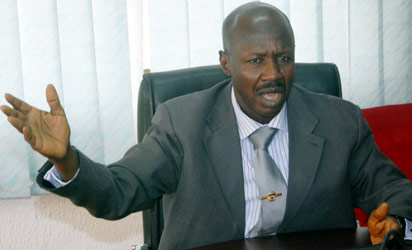 The group said: "MAG expected the chairman of the nation's anti-graft agency to have called for the judgment file or seek the opinion of his legal team on the judgment before coming out to misinform Nigerians, the media and public on a case that is more of a persecution than prosecution.
"It is pertinent to note that nowhere in the judgment is Temisan Omatseye found guilty of any fraud, not to talk of misappropriation of funds. No where again was it mentioned that he was guilty of any criminal offence.
"MAG, which had followed proceedings of the trial, notes that the EFCC's IPO, in his statement and evidence, stated that no fund belonging to NIMASA was traced to the embattled former DG's bank accounts.
"For record purposes, Justice Rita Ofilli-Ajumogobia of the Federal High Court, Ikoyi, Lagos, found him guilty of approving contracts above his threshold, a matter already subject to appeal."
MAG further noted that Omatseye had always stated in his statements and in court proceedings that the said threshold was never officially transmitted to him at the time the said contracts were awarded, adding that there was no time N1.5 billion fraud was traced to him.
It said at the time the man was removed from office, he left in the coffers of the agency N52 billion from the N50 billion he inherited from his predecessor.
MAG added that from the evidences in the court and the 27-count charge preferred against him, the amount computed was only N90 million against the N1.5 billion disclosed to the public.
"MAG, after having thoroughly followed the case to this point, calls on Ibrahim Magu, the hardworking chairman of EFCC and indeed the general public to always get their facts right before issuing statements," MAG added.