Five notorious World Cup incidents on the 30th anniversary of Diego Maradona's 'hand of God' goal against England in the 1986 World Cup quarter-final:
1982 – Battiston takes battering
German steel took on French flair in an epic semi-final in Spain. German goalkeeper Harald 'Toni' Schumacher knocked out Patrick Battiston after wildly shoulder-charging the substitute, who had only been on the pitch for seven minutes. To widespread disbelief, referee Charles Corver did not even book the goalkeeper — he claimed he didn't see the incident because he was watching the ball. Schumacher gave the prostrate Frenchman a cursory glance and then chewed gum and taunted the furious French fans while the French medical team tried to resuscitate him. He was stretchered off with three broken ribs, broken teeth and cracked vertebra, the latter two of which he still feels pain from today. France had to use their second and last substitute and it showed when they ran out of steam in extra-time and let a 3-1 lead slip and lost on penalties. "Entrenched in our memories is this charge by Schumacher who flattened the little Frenchman," Battiston told AFP years later. Schumacher's sole response at the time on learning of the injuries was: "I will pay for the crowns."
1994 – Maradona's decline and fall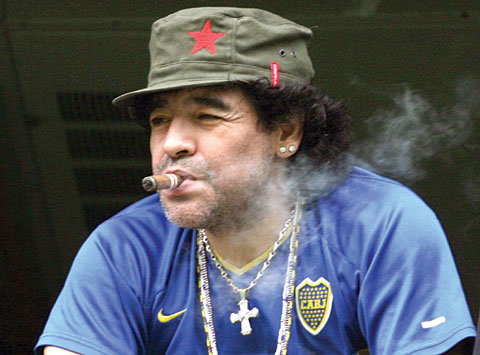 Maradona's fourth and final World Cup saw him sent home from the United States in disgrace after failing a doping test. Still a potent force, it looked as if he might enjoy a glorious swansong in the international limelight. Having scored a goal in the win over Greece and then played in the 2-1 win over Nigeria, he subsequently failed a dope test for the stimulant ephedrine. Despite his protestations of innocence that he had used an American version of the energy drink 'Rip Fuel', which unlike its Argentine counterpart had ephedrine as an ingredient, he was sent home and never played for his country again.
2006 – 'Zizou' sees red
As farewells from the highest level go, French football icon Zinedine Zidane's would be pretty hard to match, although for all the wrong reasons. Having put France ahead in the final against Italy only for Marco Materazzi to level, the two engaged in a verbal duel throughout the game. Materazzi, who had a lengthy disciplinary record, poked and prodded Zidane all evening until the latter said to him he could have his shirt after the match if he liked it so much. Materazzi replied with a crude remark about Zidane's sister and that was the last straw as the Frenchman headbutted the Italian. The referee had no option but to red-card him and he trudged off past an impassive French coach Raymond Domenech and promptly retired. Although Italy won on penalties Zidane was forgiven by the French and a five-metre-high (16-foot) sculpture outside the Pompidou Centre in Paris immortalises the moment of madness.
2010 – The Incredible Sulk
Unhappy at the largely unloved Raymond Domenech's decision to play him on his own up front for the opener against Mexico, Nicolas Anelka unleashed an expletive-filled rant. "I was only insulting someone who the rest of France had already insulted. I would do it again," an unrepentant Anelka said. Domenech said he was more shocked by Anelka's lack of respect than the words but he was sent home from South Africa once the affair made it into the papers. The French squad infamously went on strike in sympathy and several of them, along with Anelka, were punished afterwards, the striker seeing his international career pretty much ended with an 18-game ban.
2014 – Chewy Luis
Luis Suarez and World Cup finals are a potent mix if you like controversy. The toothy Uruguayan marksman had denied Ghana a likely place in the 2010 semi-finals in South Africa with a handball on the line in extra-time, rubbing salt into the wound by calling it the "save of the tournament". He outdid that in 2014 as not for the first time he bit an opponent, this time the shoulder of battle-hardened Italian defender Giorgio Chiellini. He at first denied it, then apologised but it was not enough to prevent the striker from serving a nine-game international suspension and a four-month ban from all football.
Subscribe for latest Videos