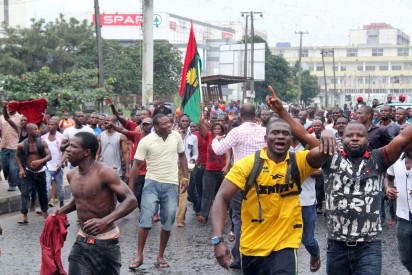 The Indigenous People of Biafra on a Peaceful Protest over the Arrest of the Director of Radio Biafra yesterday along Ikwerre road in Port Harcourt, Rivers State. Photo: Nwankpa Chijioke
….Says NDA's fighting for freedom of enslaved people
By Emeka Mamah
ENUGU—The Indigenous People of Biafra, IPOB, has praised activities of the Niger Delta Avengers, NDA, saying that they are fighting for the freedom of the enslaved people of the area by an oppressive Nigerian government.
This was contained in a statement, entitled, 'IPOB supports our kith and Kin- the NDA,' and jointly signed by the spokesmen of the organisation, Mr. Emma Nmezu  and Dr. Clifford Iroanya, yesterday.
The statement read in part: "We want to place it on record that IPOB under the leadership of Mazi Nnamdi Kanu has no connection with some groups who are claiming on the pages of the newspapers that they do not support our fellow freedom fighters – the NDA. We make reference to a particular group which is a well-known turncoat and its leader who has been bribed with oil blocks allocations in the oil-rich areas of Biafra land.
This same compromised group is known to have started the ugly incidence of kidnapping in Biafra land with its members often used as thugs and hired killers for politicians in the country.
"The NDA had consistently stated that the release of IPOB leader, Nnamdi Kanu is a precondition for any discussion with Nigeria. Unfortunately and disgracefully, the incompetent  Nigerian government has swept this demand under the carpet while magnifying the notion of amnesty payments and resource control as reasons for the NDA's actions.
For the avoidance of doubt, the NDA is fighting for the freedom of the people of Biafra and not for amnesty payment or for resource control as some commentators would like to believe. When Biafra is finally liberated from the bondage called Nigeria, resources shall be controlled by the owners of the land where those resources are located.
"The incompetent Nigerian government should stop deceiving the entire world into believing that what the freedom fighters of NDA are demanding is resource control. Amnesty is associated with criminality and a people who are fighting for their freedom should not be unjustly termed criminals.
"The notion and talk about amnesty for our own freedom fighters, the NDA, is a misnomer and should be taken out of any discourse. On the contrary, amnesty should be granted to the Nigerian government, especially to those from the criminal class masquerading as elite, who unjustly appropriated oil and gas wells and other resources in Biafra land to themselves and their cohorts to the detriment of the masses."