By Emmanuel Elebeke
Minister of Science and Technology, Dr. Ogbonnaya Onu has assured that Federal Government is addressing Nigeria's health challenges through massive investment and building of strong alliance for research development.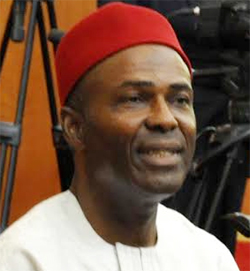 The Minister disclosed this in Abuja when the management of the National Action for Control of Aids (NACA), led by its Director General, Prof. John Idoko paid him a courtesy call in his office.
He stated that the ministry is particularly interested in research because of the importance it attached to health of the nation, adding that efforts were ongoing to establish strong linkages between all the research institutions and universities across the country for knowledge sharing and better service delivery. ''We are very interested in research because we know that the health of the nation is critical to our development. If we are not healthy, it will be very difficult for us to work as a people.
"We are very happy that NACA is working with universities because by working with universities, you will be able to share the knowledge which you generate through those universities.
Here at the ministry, we discovered that one of the weaknesses that we have had as a nation in utilizing science and technology for nation building has been in the weakest linkage between research institutes and universities. We have been working very hard to strengthen that linkage.
"We are working with a number of universities and have signed MoU with UNIABUJA to use facilities in the research institutes and we have plans to extend it to other universities,'' he said.
Onu, who expressed his resovle to ensure improvement in all spheres of research and development in the country said that his ministry is equally working with some of its agencies to commercialise all research findings.
The idea according to him is to ensure that the research findings do not end up in the laboratories but are moved into the market place, where they will be converted into products and services.
He also promised to collaborate with relevant agencies of government to protect all the intellectual property of all patents in the country in order to secure the economy and boost the moral of Nigerian inventors.
The minister charged NACA and all researchers to ensure that all their results were duly protected and commercialised.
Earlier, the Director General of NACA, Prof. John Idoko, told the minister that they were in his office to seek government support for their vision to create a regional representation for science and technology research via an alliance.
He informed the minister that NACA had already established an alliance with 12 universities across the six geo-political zones of the country with series of meetings already held with their Vice Chancellors in order to form strategic plans.
While calling for greater support for research, the NACA DG appealed to the federal government to show more commitment on research development by supporting the fledging institute being formed by the alliance.
''Without Government this cannot work the whole idea is to ensure that we build the capacity of the country and the people. This can't happen without government investment. That is why we are here today to brief on the fledging institute that is coming up. The board is being established and the advisory committee.'' he added.