By Etop Ekanem
GBARAMATU—Coalition of Gbaramatu communities in Warri South-West Local Government Area of Delta State, has lambasted the Chief of Army Staff, Major-General Tukur Buratai, over the brutality and trauma innocent residents suffered during the invasion of the community by soldiers on Saturday.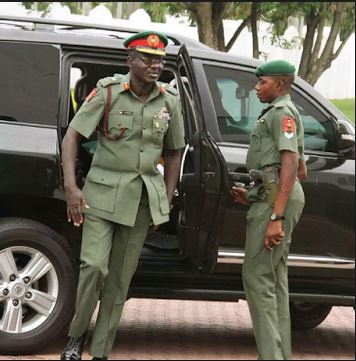 The group stated that the military operation in Oporoza was against applicable rules of engagement, ROE, which ought to be carried out in compliance with international laws without resorting to alleged dehumanization, molestation, assault and brutalization of community people.
The coalition's Chairman, who doubles as Chairman of Inikorogha community, Christopher Ejoh, in a statement alleged that soldiers laid siege to Oporoza for hours shooting sporadically as if the community was at war with the Nigeria army.
He said the alleged invasion and continued military presence in the sleepy community had created serious fear and panic among the residents, saying, if the soldiers were not called to order within days, the government would be contending with humanitarian crisis as residents no longer had access to medical care and food items because of the siege to the community.
While condemning the alleged invasion, Ejoh however called on the hierarchy of Nigerian military to exercise caution in its onslaught against militants, stressing that members of the Niger Delta Avengers NDA wrecking havoc on oil installations in the Niger Delta region are not indigenes of Gbaramatu Kingdom.
In the same vein, Chairman and Secretary of Oporoza Youth Association, Amani Ebiemi and Evelyn Bakumo, respectively in a statement also called on the military to stop alleged militarising Gbaramatu communities in the guise of searching for members of Avengers, emphasizing that their Communities are not the domain of militants.
"We are calling on the Chief of Army Staff, Major-General Tukur Buratai and President Muhammadu Buhari to call the soldiers to order to stop tormenting us. We are peace loving people and no part of Gbaramatu Kingdom have been taken over by militants. Those attacking pipelines are not from our communities so we are appealing for great restraint to avoid humanitarian crisis in our communities", the group said.