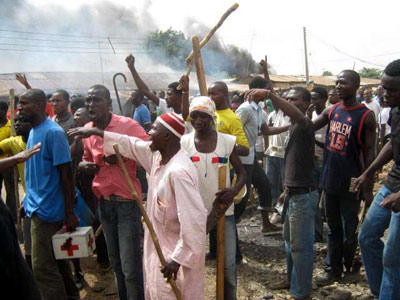 Rioters is some northern states during the post election violence.
..As CSOs fear PDP crisis may endanger Edo, Ondo guber polls
By Chris Ochayi
ABUJA: The Independent National Electoral Commission, INEC, has pledged its support for any amendment to the electoral Act that would seek to disqualify or bar electoral offenders from standing for future elections.
Chairman of Independent National Electoral Commission, Professor Mahmood Yakubu, who made the pledge in Abuja, regretted that electoral violence and malpractice instigated by the political class were responsible for the recent spate of inconclusive elections conducted by the Commission.
This is as the Civil Society groups raised the alarm over the impending danger facing forthcoming gubernatorial elections in Edo and Ondo States following the current leadership crisis rocking the soul of opposition Peoples Democratic Party (PDP).
Prof. Yakubu who spoke at one-day civil society/stakeholders roundtable on INEC and inconclusive elections, noted that the desperation by most politicians to win elections at all cost usually lead to massive electoral irregularities and violence resulted death of innocent citizens and destruction of properties.
The session was organised by the Independent Service Delivery Monitors group, ISDMG, in collaboration with Partners for Elective Reforms, PER, was chaired by Human Rights activist, Mr. Ledun Mitee.
Yakubu, who was represented by the Director Voter Education at the Commission, Mr Oluwale Osaze Uzzy, however, enjoined Human Rights activists to promote any cause that, would lead to restoration of sanity in the electoral system.
While also calling for a 10-year ban on politicians who are guilty of electoral offences from aspiring to any public office, the INEC Chief added that the tide of electoral violence and malpractices was making the conduct of elections difficult for the Commission.
Human Rights activist, Mr Ezenwa Nwagwu, who spoke from the independent observer's perspective, expressed fears that the current leadership crisis of PDP if not resolved would negatively impact on the conduct of the forthcoming gubernatorial elections in Edo and Ondo States.
He disclosed that INEC has conducted 129 election in the last six months and still have 31 more by July, it inherited 49 rerun in 16 states.
He however called for revisit of the recommendation of the Justice Uwais led electoral reform committee particularly recommendation for the establishment of Electoral Offences Commission and Political Party Registration and Regulatory Commission.