By Johnson Omomadia
God is a God of purpose. Everything He says has a meaning and He performs all that He says. God is who He says He is and will do what He says He will do. Some people think that when they are asked to praise God, all they need to do is to sing and dance. This is good but not good enough. Just singing and dancing is not the real purpose of praise. Until you and I have a good understanding of praise, we cannot reap its full benefits. In Amos 9: 11-12, the bible says "In that day will I raise up the tabernacle of David that is fallen and close up the breaches thereof: and I will raise up his ruins and I will build it as in the days of old: that they may possess the remnant of Edom and of all the heathen which are called by my name, saith the Lord that does this".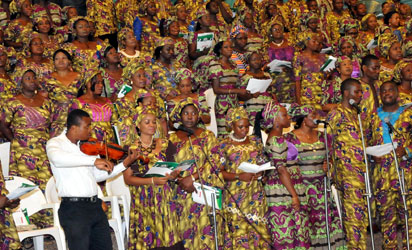 From the text above, prophet Amos, by the Spirit of God, prophesied about a time when God would restore again the tabernacle of David. What then is the tabernacle of David? Let's see 1 Chron.16:1, 4-6. It says "so they brought the ark of God and set it in the midst of the tent that David had pitched for it: and they offered burnt sacrifices and peace offerings before God and He appointed certain of the Levites to minister before the ark of the Lord and to record and to thank and praise the Lord God of Israel.
Asaph, the chief and next to him Zechariah, Jeiel and Shemiramoth and Jehiel and Mattithiah and Eliab and Benaiah and Obededom: and Jeiel with psalteries and with harps but Asaph made a sound with cymbals; Benanaih also and Jhaziel, the priests, with trumpets continually before the ark of the covenant of God". From the text above, we can see that the tabernacle of David was a place of praise. Inside the tabernacle was the ark of covenant and before the ark the priests gave continual praise and worship. One hundred years after the removal of David's tabernacle, Amos wrote that a day is coming when God will restore David's tabernacle (a place of praise) and build it as original.
God is therefore restoring the place of praise. If you have noticed, gospel musicians are today, in the limelight. They are being sought after. Please know that God is restoring the place of praise in His church not just to praise Him but that you might possess. (Amos 9: 12). Possess in Hebrew word is Yaresh. It means, occupy by driving out the previous tenants, to cast, to consume, destroy and to disinherit. God's purpose for praise is for the church to drive out and destroy the works of darkness and disinherit the devil and occupy the earth.
Satan would not voluntarily give you back what he has stolen from you. To possess what belongs to you, you have to enter into spiritual warfare and take up your weapon of praise. As you rise up in praise, you begin to possess. Just as the walls of Jericho collapsed through praise, so shall all your enemies collapse as you give God quality praise. I see total restoration and possession happening in your life from now as you stay in continual praises from your heart. God bless you mightily.
TESTIMONY:
During one of the women of praise, I came to the meeting with a very heavy heart. The previous night, I could not sleep but spent many hours in tears. I managed to attend the meeting. I was so glad when pastor mentioned my case and said that before the next Women of Praise meeting, I will celebrate. God, indeed has honored my praises for He has made a way for me, my daughter and entire family. To crown it all, my niece who has been in hospital for months with threatened pregnancy finally delivered a bouncing baby boy without complications.
It is a good thing to praise the Lord. See you at the next Women of Praise meeting where God's glory comes upon His daughters. Sis V.O Have you given your life to Jesus? If not, please pray this prayer. Father, I come to you as I am. I invite Jesus into my life to be my personal Lord and Saviour. Wash me cleansed with the blood of Jesus and empower me with the power of your Holy Spirit. Thank you Father for saving my soul and making me your child.