By Michael Eboh, Peter Duru, Oghene Omonisa, Daud Olatunji, Francis Igata & Aderonke Adeyeri
The hike in the price of Premium Motor Spirit, also known as petrol, has thrown up a number of challenges and in response, Nigerians have been forced to adopt a number of cost-cutting measures to survive the hard times thrown up by the increase. Specifically, Nigerians are introducing ingenious means to survive the hike and the associated hardship, some of which include car-pooling, fuel-gauge watching, cutting down on the use of car air-conditioning and patronising fuel stations selling at lower prices.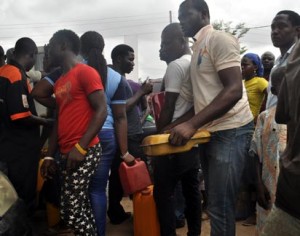 Already, the National Bureau of Statistics, in its April inflation report released during the week, revealed that Nigeria's headline inflation reading rose to 15.6 per cent in May, 2016, about 1.9 percentage points in excess of the previous month's record of 13.7 per cent.
The latest record did not only indicate a steady rise since last year (except in August, 2015), but also showed a six-year high point, matching the same level as in February 2010 The NBS blamed the rise in the country's inflation rate on the increase in electricity rate and fuel price among others.
Motorists groan, device means of survival
A motorist, Mr. Jude Umeh, said the fuel price increase has hiked his expenditure and reduced his savings significantly. He said "prior to the increase, I normally drive into a petrol station and ask the fuel attendant to fill up my tank, but I can no longer afford to do that. In the past, when my fuel gauge is showing that my tank is half way, I used to fill up my tank with about N3,500, but now I cannot afford to fill up my tank from half way." Umeh said these days, he could only buy fuel as much as his pocket allows, stating that N5,000 can no longer fill his tank when it drops half way.
Another motorist, a businesswoman, Mrs. Agatha Otiti, who drives a Sport Utility Vehicle (SUV), told Saturday Vanguard that within the first two weeks of the price hike, she spent N27,000 to fuel her vehicle, which forced her to have a rethink on her expenditure as it concerns fuel. She explained that these days, she no longer comes to town on a daily basis, from her place in Lugbe, but only ventures out of her home if she is certain she has a business deal to close, which would fetch her reasonable sum of money.
For Mr. Friday Olarewaju, he only comes to work with his car twice in a week and on days when he cannot catch up with the company's staff bus. He said the decision to limit his driving time was as a result of the high cost of petrol, which he lamented was taking a toll on his finances. He added that the company's staff buses had recorded significant increase in staff patronage, as majority of his colleagues had abandoned their cars since the hike in fuel price.
"It was agreed among all the staff that we would be contributing N1,000 each on a monthly basis for fuelling the company's Toyota Coaster Buses that pick and drop us at bus stops closest to our house on a daily basis. As for me, the bus stop is a walking distance from my house, so it is very convenient for me," he explained. Mrs. Anastasia Bakare, said she, her friends and some of her colleagues have reached an unwritten agreement to take turns in driving to the office carrying others.
She said, "When it is your turn to drive, you carry others, and that is how we arrange it on a weekly basis. With this arrangement, I usually end up driving my car to the office only once a week. This has been helpful in reducing the amount I spend on fuel on a daily basis." Another motorist who chose not to be named, told Saturday Vanguard that he no longer uses the air condition in his car, so as to conserve fuel. According to him, I only use my car air condition when it is raining heavily, and when it would be very difficult to drive.
In addition, to save cost, Mr. Usman Salisu said he does not allow his fuel to reach half tank before he goes for fill up. According to him, allowing the fuel to drop to half tank means one will spend more in filling it up. He explained that fuel drops faster from the mid-point of the tank, stating that from the point at which the tank is full to the mid-point, it takes a little longer.
"If you want to spend less on fuel, once your fuel gauge drops from the point at which it is full, do not let it get to the midpoint before you fill it up again. That way, you might end up spending less for fuel on a weekly basis," he argued. A private car owner who spoke to Saturday Vanguard said that since the price increase, he has been mindful of his movements to conserve fuel. He added that filling of his tank is now a thing of the past as he only buys the quantity that would be enough for his immediate use, even as low as two litres.
A commercial bus driver who plies between Iyana Ipaja and Ayobo Road, Matthew Akinpelu complained bitterly over the negative effect of the new price on his transport business. "It is saddening that these days, I hardly make money from my transport business because of the new fuel price. Before now, I was making a profit of N2,000 with N800 worth of fuel. But that is not the case since a litre of petrol now cost N145. Presently, when I buy seven litres of fuel for N1,015 and after toiling under the rain from Iyana Ipaja to Ayobo Road, I make N1,000. Tell me, how do I feed my family, pay house rent and meet other responsibilities?"
The price increase has also affected the use of generating sets. Saturday Vanguard investigations revealed that many residents of Lagos no longer keep generators on for long as it used to be. A filling station attendant at Conoil filling station, Olude Bus stop, Ipaja, said due to the new fuel price, the number of residents who flood the filling station, especially in the evenings, to buy fuel has drastically reduced. "Everybody is aware of the high cost of fuel so, we only put on generator when necessary", a resident, Oluwadare Kosefe, said.
Motorists abandon vehicles
Some motorists in Enugu State have abandoned their vehicles for commuter buses and tricycle operators popularly known as Keke-NAPEP following the hike in pump price of petrol even as filing stations in Enugu metropolis and beyond are experiencing a drop in patronage. Checks at most roads within the metropolis which include New Heaven, Ogui Road, Penoks-T Junction, which are renowned for traffic gridlock showed that fewer vehicles are on the roads.
Ameobi Chime,a civil servant residing at No. 7 Carter Street,Enugu said, "I parked my car since December during the fuel scarcity that ushered in the increase to N145 per liter from N87.60. I tried to see if I could cope initially when the new price regime came on board but I had to abandon my car. I now go to work by commuter buses. Before I abandoned my car, I was buying fuel worth N3,000 daily which was about 13 litres, but I discovered I could not sustain it. Presently, I spend about N600 daily on intracity fares which is cheaper for me to enable me attend to other family needs.
On his part, a civil servant in Makurdi who craved anonymity told Saturday Vanguard that since the increase in pump price of petrol, he has cut down his weekly budget for fuel purchase. "Before now, I used to ensure that my tank is filled every week because I move around a lot but as it is now, I have cut down on that. One does not move around except there is need for it. I buy fuel when there is also need for it. One cannot afford that luxury of having a filled tank anymore."
For Terzungwe Kase, a commercial bus operator, "the new pump price is killing, most of us have now devised what we call, 'buy as you go'. We buy fuel depending on the volume of passengers we are able to convey in a day. Most of us start the day's work with about 10 litres of fuel and top up as the work progresses since fuel is available though at a higher price which has also forced us to increase transport fare across the state."
On his part, a barber, James Ameh said, "it is unfortunate that we are paying so much for fuel at this time when feeding has become so difficult. What we do is to buy in small quantity but unfortunately, electricity supply is also not stable, so we are facing a difficult time." Most people in some parts of Ogun who spoke with Saturday Vanguard expressed agony over the increment and many of them have resorted to parking their cars at home and taking commercial cabs to get to their destinations.
Speaking with Saturday Vanguard, Kunle Olayeni, a journalist and Chairman of Ogun State Correspondents explained that, before the increment, he spent N5,000 to fill his tank but since the increment, he has never bought a full tank. Olayeni said he only buys 10 litres now which cost him N2,900 and he tops it when necessary. Also speaking, Olayinka Olukoya, an assistant editor with a national newspaper said she spent N4,500 to fill her tank before the recent increment but she has now resolved to buying N2,000 worth of fuel.
She said "I can no longer afford to buy full tank. The economy is sick. Some of us who have cars don't usually take our cars out these days, we prefer to go by public transport because it makes economic sense." An operator of a barbing salon simply identified as Akanmu said his car would take 60 litres that used to cost N5,000, but now he only buys fuel worth N2,000, saying he would need to spend N9,000 if he were to fill his tank now.
Mr Idris Kelvin Abu, a motorist, said "I spent N5,200 to fill up my car at the rate of N86 per litre but now I dare not try it, as I will not spend nothing less than N17,000 to fill my tank now. "For now we can see the fuel everywhere, fuel is at every filing station, there is no more long queue but there is no money to buy it.
Ajani Sodiq, a commercial motorcyclist while sharing his experience said, "I spent N1,200 to fill my motorcycle tank before, but now, I spend nothing less than N1,700. Mr Waheed Ogundele, another motorcyclist narrated his ordeal, saying before the increment, he spent N1,100 to fill his motorcycle tank, but it has jerked up to N1,900. "The only thing I see about the increment is that I can enter filling station at anytime to buy fuel unlike before when we would sleep at filling stations."
Imoleayo Alade, a driving tutor said he spent N5,000 before the increment, but needs N15,000 to fill his car tank now while Adedokun Adelaja, who drives Sienna SUV said that she spent N4,500 before, while she needs N13,000 to fill her her tank now. Adedokun said "in my life I had never experienced such hardship, I cannot fill my tank again because of the increment."
Some of the petrol attendants who spoke with our correspondent on the condition of anonymity lamented that despite the fact that there is fuel, the number of vehicles that patronise them are very few. They said even with the low patronage the motorists buy between 10 and 20 litres.
Fuel stations record low patronage
A petrol attendant in one of the filling stations at the High Level area of Makurdi, Benue State capital who gave her name as Rita said there has been low patronage since the introduction of the new pump price. She said, "before now when we were selling at N87 per litre, this place used to be like a war zone with many vehicle owners struggling and shouting to be attended to at the same time. At that time, many would prefer to fill their tanks because it was a lot cheaper to have your tank filled up.
"Unfortunately, today the reverse is the case, as most car owners as well as commercial buses and motorcycle operators would drive in here and buy fuel for as low as N1,000. It's as bad as that. Besides they come in trickles, sometimes we sit for as long as 30 minutes before you see somebody driving in to buy."
Another attendant at one of the stations in Makurdi, Abigail Usman told Saturday Vanguard that sales has dropped significantly since the introduction of the deregulation policy. She said, "Before the increase in price, there was hardly a day we sold less than 10,000 liters of fuel, but now we struggle to make half of that in a day. People prefer to buy in small quantities, maybe because the product is readily available."
In Lagos, the Manager of Ibukun-Olu Abdul Azeez (Nig.) Ltd, operators of a filling station along Olojo Drive, Ojo, who did not want his name in print said, "there's no doubt that the fuel price increase has affected the volume of sales." He told Saturday Vanguard that it was common, before the fuel price increase, for commercial bus drivers to request their tank to be filled up, which is about 50 litres and above. "But now, very few of them still do that. They prefer to buy as much as they could afford, even as low as10 litres, and then come back to buy again."
He said as for private car owners, their patronage has drastically reduced. "There are some who would buy as little as two litres. You don't see them order their tank filled up like they used to", he said He added that before the price increase, daily sale was in the average of 35,000 litres daily, but that, presently, it would be a good day if they could sell 15,000 litres as sales now waiver between 12,000 and 14,000 litres per day.
It was a similar situation at Forte Oil filling station along Oshodi/Apapa Expressway by Berger Bus stop, Apapa, where the manager admitted that volume of sales has drastically reduced, and attributed it to the price increase. He said before the price increase, the station would sell between 14,000 to 15,000 litres, but that presently, they sell between 6,000 and 7,000 litres.
Ebere Unazi,an attendant at Mobil Filing Station,Ogui Road in Enugu regretted that the volume of sales has reduced due to the increment in pump price of PMS. "We do not sell as we used to before now. A 33,000 liter fuel which normally lasted a week now stays for months before we finish dispensing it to few motorists. This is because very few people can buy fuel these days at N145. Some of our colleagues were laid off the other day because the employers said the turnover has dropped drastically. We operate on Sundays now to see if we could sell off our stock timely but this has not helped".
Demand for petrol has reduced by 50 percent—MOMAN
However, Mr. Akin Akinfemiwa, Chairman, Major Oil Marketers Association of Nigeria, MOMAN and Group Chief Executive Officer of Forte Oil Plc, said the seeming availability of the product is due to the fact that the hike in the price of product has dragged demand for petrol down by 50 per cent. While the many tales of woes persist, motorists are calling on the Federal Government to introduce measures that would help alleviate the sufferings of people and also take steps to put up palliatives and other incentives that would be beneficial in the short, medium and long term.
Nigerians are also urging the Federal Government to ensure that the refineries are fixed, while oil facilities are adequately protected to avoid disruption in supply of petroleum products across the country.