By Emma Amaize & Samuel Oyadongha
FORMER leaders of the defunct Movement for the Emancipation of the Niger Delta, MEND, have asked the Niger Delta Avengers, NDA, and other militant groups to stop attacks on oil pipelines in the region and dialogue with the Federal Government.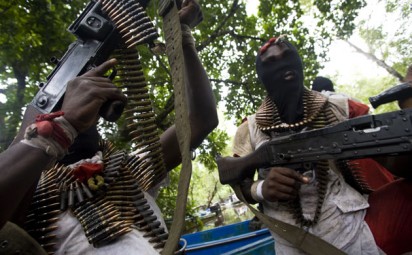 The ex-MEND leaders, under the aegis of Leadership, Peace and Cultural Development Initiative LPCDI, said the attacks by the militant groups, who claim to be correcting some anomalies, have negatives effects on the troubled region.
National President of LPCDI, led by Reuben Wilson, aka General Pastor, announced that though they had openly condemned the actions of the Niger Delta Avengers, "We appeal to them to give peace a chance. We are standing on the side of peace and will always do because of the greater interest of the entire Niger Delta region."
"If you take an honest look at the actions of the NDA, you will see that the bombing of pipeline and other vices will have a lasting negative effect on our fathers and mothers, brothers and sisters and even children in the communities, who will not have a source of livelihood if the whole area is polluted.
"We also do not want soldiers to invade our communities like they did in Bornu State and rendered thousands homeless. Rather we advise them to channel their grievances through the right method instead of destroying their own land and heritage to make their point.
"We appeal to the members of the Niger Delta Avengers and any other groups involved in the recent destructions of oil facilities in the Niger Delta region to re-consider their activities and yield to the call from the Presidency for a dialogue as a mean of finding lasting solutions to their grievances.