By Sam Eyoboka
IT was another typical lengthy spiritual exercise penultimate weekend as the Lord's Chosen Charismatic Revival Ministries marked another two-day "…And the enemies submitted" crusade as numerous members from differ-ent parts of the country converged at the international headquarters of the church at Odofin Park Estate by Ijesha Bus Stop, along the Oshodi-Apapa Expressway in Lagos with several who had defied the early morning rain, taking turns to testify to the wonder-working powers of the 'God of Chosen'.
Some of the testimonies at the two-day event were, to the uninitiated, bizarre and unimaginable but the church authorities insist that the God of Chosen has the capacity to do all things which may be unfathomable to the canal minded. One brother who testified that three armed robbers broke into his house, and ordered him to lie down in preparation to snuff life out of him and make away with his belongings. But remembering the instruction of his pastor, he declared: "I am a Chosen; Armed robber who are you?" Infuriated by the audacity, the armed robbers fired their gun three times but there was no effect. On discovering the futility of their enterprise, the robbers made effort to run away, but the brother chased them and disarmed them and according to him, he took the arms to the nearest Police Station.
Explaining the reason for the programme, the General Overseer of the Lord Chosen Charismatic Revival Ministries, Pastor Lazarus Mouka, said humanity is suffering diverse challenges today because "some fallen angels working with the devil and the spirits enter human beings and they constitute enemies and in most cases the humanity has been suffering in the hands of these enemies."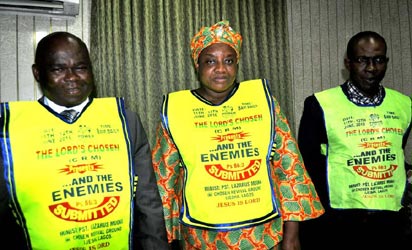 According to him, knowing "what God wants us to do, He has raised us up to help all the Christians and the suffering masses to liberate them from sufferings and bondages. The Lord gave us the message to tell the world that Christ has defeated devil at the Calvary and He has given us the grace to stand against the devil and liberate humanity that are suffering in the hand of the devil."
In an interview with a select journalists, Pastor Muoka who was flanked by his wife and the church's public relations officer, Pastor Louis Chidi said: "By God's grace, when you listen to some of the testimonies of people who have been suffering for 20 to 40 years and were liberated you will appreciate that God is still willing to do more."
He maintained that the theme was "given to us not just for these few people but for the whole world. Nigerians will be liberated from all kinds of sufferings and people will jubilate. The topic of this crusade is for the liberation of humanity. By God's grace, those watching through the cables will be liberated from devil and whatever has been holding them down."
Mounting the pulpit on each of the two days, the General Overseer assured the mammoth crowd just before the two prayer sessions that he was set to meet the expectations of the people, commanding the deaf, dumb, the lame, hunchbacks, the insane, those on clutches or on wheelchairs, those with missing or damaged internal organs, to step out. According to him, he was equally set to restore life to anyone who might have died, because death was not the will of God.
Continuing, he issued the order repeatedly: "Anybody that was carried to this place, rise up and walk. If you came here clutches, drop them because you have received your healing. Those afflicted with insanity, the madness is cancelled in the name of Jesus. Any damaged organ should be recreated in Jesus name! If you have hunchback, I command it to disappear, in Jesus name! I cancel diabetes and those of you with damaged wombs; I command you, receive your healing now!"
He then instructed his pastors to oversee them to confirm any miraculous occurrences and make the necessary announcements to the joy and glory of the congregation. A flood of testimonies started to reverberate across the healing ground with female ushers busy trying to cover those who were possessed by unclean spirits.
"Pastor, there is a woman here who has had been mad for 12 years. It has disappeared!" Several men and women lifted their clutches which had hitherto aided their motion from one place to another. A man said that he was healed after 10 years with a broken limb. Another one testified that his three years old stroke was gone for good as the pastor prayed; while yet another man said that he started walking after being bedridden for nine years due to stroke.
On the second day of the crusade, Brother Henry Vanman, a Deputy Superintendent of Police, from Bayelsa State gave a stunning testimony dressed in his ceremonial uniform. A staff of the Police Hospital, Falomo in Lagos where he is the O/C Laboratory Department, he said before he was elevated to that position to head the Lab Department, about five officers were ahead of him; yet he was told by one of the high ranked officers in the hospital that he would be given the mantle of leadership. Probably due to the qualities he possessed.
As it was divinely planned and prepared for him, all the five officers ahead of him were retired shortly. Thereafter, he became in-charge as an ASP.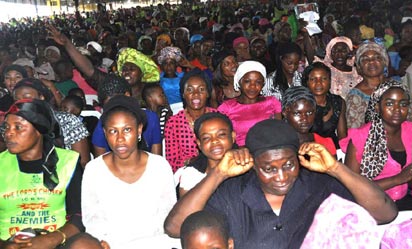 Fortunately, after being given the position, he became sick and required surgical operation. As a believer and member of Chosen, he reverted to prayer. Then, I was praying telling God to operate me spiritually. Then, anytime I went to the Military Hospital, Falomo for the operation, I was told that the doctor that will operate on me was not around. So, I depended on God for healing. I went to church and after prayer from the man of God, Pastor Muoka, the hyenia disappeared. And, thereafter, I went to laboratory test, I could not see it anymore.'
I was on the rank of an ASP position for 10 years. On April 20, 2016, I was officially decorated to the position of Deputy Superintendent of Police. All these while, I went through a lot of distresses. Could you imagine when someone that ordinary by the Police ranking and enlistment supposed to answer you, Sir is in high ranked than you.
I was not comfortable, yet believed that God will surely remember me at the appointed time. And truly, when the time came, there was no two ways about it as, I was promoted.
Though, I am supposed to be higher than this on the job, but still, I thank God for his intervention.
At a stage in the delay process, I began to wonder what my offence was, but could not remember any. That was what really gave me the courage that I will get back what belongs to me at the appointed time.
Meanwhile, I was promoted to ASP on August 1, 2006. I do not really know what stopped my promotion, but only God. I know that having received the promot-ion, I know that God will return the ones I have missed.
I told God that if I am promoted, I will come and testify in the presence of the Chosen members. That is why I am here to-day. Meanwhile, I am supposed to be on the rank of Superintend-ent of Police.
My case has taught me that there is nothing God of Chosen cannot do. Since he remembered my case, there is no doubt He will remember others like me. That is why we all should seek the face of God, not only when we have problems, but always.
Another brother averred that God demonstrated His power in his life as He restored his sight and made him to see again. "Demonic blindness struck me five months ago. As this problem came, I found it difficult to see, later, it degenerated to total blindness. In my house, I no longer see the people entering into my house. I will use umbrella to cover myself. Every activity in my life almost ceased, there was no more opportunity of going to farm or market or even cooking.
"It was someone that brought me to Mgbidi crusade. When we arrived at the crusade ground, I did not see anybody. However, I kept on calling on God of the Chosen to remember me. When the Pastor started praying during the second day, he mentioned my case and something started going out of my eyes. When the object finally left my body my eyes opened and I started seeing people. God has touched my life and healed me of five months blindness and I am grateful to him for the divine healing. Chosen praise the Lord!
Asked to speak on the state of the nation, Pastor Muoka said what we are witnessing today are signs of the end time and there is no other place to have succor, help or protection but in God.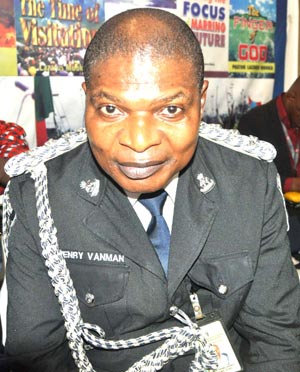 "Nigerians at large should embrace Christ, return to God. It is only prayer that can solve Nigeria's problems. Prayers are made everywhere but the prayers that are prayed here will solve their problems. I am sure about that. We should trust God. Call upon Him and they should come to Chosen because the solution here cannot be found everywhere else.
"It is not just about running churches but for the church to be able to wipe away the tears of the people. Nigerians should all come to Chosen.
"If nations embrace Christ, things will turn around for good and God will give us a turn around in our economy and I believe that God is able to do this and He has remedy for Nigerians in this church. Either economy, security whatever problem God has the remedy. Problem of sin, corruption God has the remedy.
"Even though we are at the end time, God allows some problems so that we can run to Him and not go to hell fire. Nigerians should humble themselves, appreciate that God is alive and appreciate His grace. I want you to know that God has the solution to Nigeria challenges either now or before the coming of Christ in this church.
Apart from the issue of Boko Haram that we are facing in this country, there is also the Niger Delta Avengers, what is your advice to the avengers and the federal government?
Everyone should call upon God. It is only God that has all solution to all the problems in the region.
Is the church praying for the quick recovery of our President?
The Bible instructed us to pray for our leaders. It is the duty of the believers to pray for those in authority and our nation. There is no question about that.
Subscribe for latest Videos