By Chioma Obinna
When Justina, 29, married Emeka against all odds, little did she know that a day will come that she will succumb to the killer- disease.
Married at the age of 18, Justina's clock to the great beyond started tickling few weeks after she was diagnosed of tuberculosis, TB, in one of the state government- owned hospital in Owerri, Imo State.
Before then, she had been  living in peace with her husband, and  had given birth to five children without complications.
Although  her relationship with her  in-laws never improved all through the 12 years she lived with her husband, she  had a cordial relationship with her husband.
But fate played a fast one on her as she contracted TB.  She died.  Justina is one out of  about a quarter of  a million Nigerians infected by the disease every year and about 170,000 people that die from the infection.
These deaths occur in low- and middle-income countries like Nigeria, according to the World Health Organisation, WHO.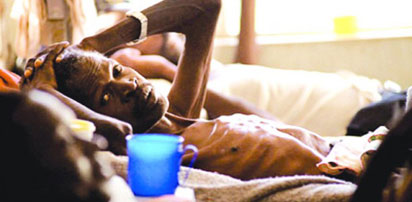 TB is caused by a bacteria known as  mycobacterium tuberculosis that  affect lungs. It is spread from person to person through the air. When people with lung TB cough, sneeze or spit, they send the germs that carry the infection into the air.
Statistics by WHO showed that TB is among the top five causes of death for women aged 15 to 44.
In 2014,  a total of 9.6 million people were said to have fallen ill  as a result of  TB  while1.5 million died from the disease, including 380 000 people living with HIV.
In fact,  TB is a leading killer of HIV-positive people as  one out of every three  HIV deaths was due to TB.
According to WHO, globally, in 2014, an estimated 480 000 people developed multi-drug resistant TB, MDR-TB.  The world body had expressed worry that multi-drug resistant TB, MDR-TB, is another critical challenge.  To WHO, the situation requires urgent and effective action to address antimicrobial resistance, increased investments which are key to ending TB by 2030.
Unfortunately, in Nigeria, tuberculosis response remains underfunded.
Most states in Nigeria are recording increase in new cases.
According to the Minister of Health, Mr. Isaac Adewole, during an event to mark 2016 World Tuberculosis Day in Abuja,  Nigeria records quite close to 250,000 deaths every year from tuberculosis.
Recently, Anambra  State government raised the alarm of a possible epidemic of tuberculosis in the state. According to the state Commissioner for Health, Dr. Joe Akabuike, 2,000 tuberculosis patients were receiving treatment at various Directly Observed Therapy Centres (DOT) in the state.
Akabuike said Anambra  and 13 other states, including FCT, contributed to over 75 per cent of the total TB burden in Nigeria.
Specially,  about 6,023  were diagnosed in 2015 of TB.
With the  reality of  epidemic of TB in some parts of the country,  public health experts are worried that the fragile health systems, ignorance, stigmatisation, human resource, financial constraints, serious co-epidemics with HIV, diabetes, and tobacco use are  threatening the management and eradication processes.
The worry is not unconnected with the fact that we have multidrug resistant TB challenge in the country.   Kano State Commissioner for Health, Dr Kabiru Getso, disclosed that 45 multidrug resistant TB cases were diagnosed and put on treatment in 2015 in the state, leaving a huge gap of about 25,000  cases in various communities undetected.
According to him, Kano is among the six states with the highest burden of TB in Nigeria with estimates suggesting that 30,000 people are infected with the disease annually.
Minister of Health, Adewole, added: "Nigeria accounts for 15 per cent of the world's gap in tuberculosis case notification. The implication is that only one out of six cases of tuberculosis roaming around is  detected, while five  roam the streets undetected. In other words everybody  safe. "
The minister  lamented that the major constraint faced by the country in addressing the burden of tuberculosis is the financial gap, stating that, for instance, in 2015, only 32 per cent of the $228 million required was realised, leaving a funding gap of $155 million.
Why TB may remain a problem
A public health expert at the Mainland Hospital, Lagos, Dr. SOA Adesola, who maintained that TB is on the expressway in Nigeria, regretted that the country seems not to be doing enough in terms of treatment, management and research.
"TB is a headache for Nigerians because it ranks 5th among 22 countries with highest burden in the world. TB is on the express lane and it is still an emergency in Nigeria," Adesola said.
"By high burden it means the country has very high prevalence and high mortality. We have wonderful programme for the control of TB that is donor funding. Nigeria has done enough in efforts to ensure that diagnostic centres and treatment centres are being expanded but there is a particular ratio we must have within any local government" .
He explained that  the confusion and problems in the treatment and management of TB  in Nigeria  fuel HIV.
According to him, TB was under control until HIV surfaced.
"HIV worsened the case of TB and increased the number of those who have TB and the number of those who died from TB and it almost made our efforts to be disjointed," he stated.
Adesola noted that the challenges of TB cannot be removed from the challenges of healthcare service delivery in Nigeria which include poor staffing, funds and coordination. He stated  that although TB should be at primary healthcare level, unfortunately, primary healthcare is not optimal, adding that unless the country gets it right  at  that  level, TB may not be eradicated in Nigeria.
What needs to be done
Another  important area, he noted, is that Nigeria should focus on the poverty level because TB is a disease of poverty.  "Overcrowding and poor housing are  core issues. Malnutrition is another  core issue. Where I work, for instance, every time there is an increase in the pump price of fuel, we see an upsurge of people coming down with TB because  people who, for instance could feed three times  a day can do that maybe twice a day. Those who could feed twice a day can't even do anything.  Their immune system crashes and then they come down with TB."
He maintained that economic progress in Nigeria will have direct impact on TB control.
He called on  government not only to bother  just about how many people livie with TB but focus on how many  people  suspected to have TB are diagnosed and treated.
"It is not good to diagnose 1,000 people and then treat just 10. There is what we call treatment completion. Are people completing their treatment?  Are people being cured of TB?  To diagnose people, we need DOT Centres," he said.
Free health policy
Adesola, who disclosed that the treatment of TB is  free, explained that although treatment for TB is for six months and drugs are free, other complications arising due to late presentation would be paid for by the patient.
" I must explain that many patients  that go for treatment for TB may not essentially have only TB.  If they go early in the course of the disease, they will have TB alone. But by the time the delay is  long, TB would have  caused enormous damage to some other organs and you have to manage those organs. Management of those organs is not part of TB, they pay for that.   But if people go to centres where they can be treated, they are not  expensive. But for TB, the treatment is free.
" For instance,the sputum   microscopy we use currently  is free,  gene Xpert test for diagnosing TB and resistant TB is free, HIV test is free. But  other test  may not be free. For instance, if someone has TB and pnemonia, you will need to treat the pnemounia. And you  will have to pay for that if you do not have health insurance".
Health  watchers are of the view that unless government moves possibly into affected population like people living with HIV, urban slums, nomadic population, children and people with diabetes among others, Nigeria may not meet the UN 95 percent cut in TB deaths and incidence rate by 2035.
There is also the need for Nigeria to intensify research and innovation towards the fight against multi-drug TB in order to ensure that the fight against the dreaded disease does not become a  mirage.
Subscribe for latest Videos