By Charles Kumolu
By Charles Kumolu
At a time when the principle of right and wrong has become endangered in Nigeria following poor leadership, Pastor Wale Adefarasin is concerned about how to bring back those things, govern social behaviour in the country. To achieve this value re-orientation, Adefarasin, who is the General Overseer of Guiding Light Assembly, a non-denominational church with branches in Lagos, Abuja and London, says, in this interview, that the collapsed family system in Nigeria must be repaired. To this end, Adefarasin and a life-coach, Lanre Olusola, have concluded plans for specialised family oriented master class. The pastor reveals some defining stages in his life.
You are a notable pastor. At what point in your life did you develop interest in building people and capacity?
It is one of the things I think I was born with but, when I gave my life to Christ, it was accentuated.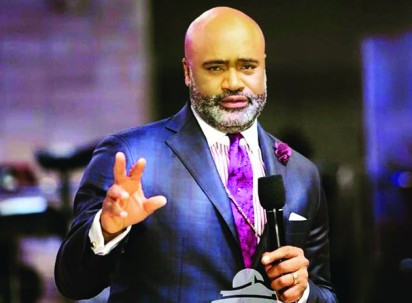 Tell us about your defining moments and the lessons you think can be learnt from them?
I had always wanted to stay in business and, at the same time, I knew God was calling me to be a pastor. Then God re-assured me that he will take care of me by sending to me someone who did not know about my internal dilemma but I knew what he was talking about.  The day we finished the roofing of the church auditorium, we found that going further was almost an impossibility considering who we were and what we had. I remember people bursting into tears when they entered the auditorium.
Is it the same passion for building leaders that will change their world that actually informed the specialised marriage workshop (Mind the Gap class)?
Mr Lanre Olusola and I had a discussion about the state of our nation and we both came to the conclusion that our nation is where it is because there has been failure of families to sustain the values that are needed to produce the kind of leaders that a nation like Nigeria needs. And so we felt that a lot of people are getting into marriage not knowing what to do in the marriage, how to behave in the marriage and what marriage is. And so that is the reason for this Mind the Gap. It is to talk to people about marriage because marriage is an essential part of family life. Just imagine, a child that grows up in a dysfunctional home is not only just going to be dysfunctional for himself or herself,he is going to pass that dysfunctionality to his or her children and this thing can keep on going. For instance, if alcoholism steps into a family, it causes all kinds of issues in the family and, before you know it, the children become alcoholics and dysfunctional.
Specifically, was there something or things that happened that ignited the urge for this?
We just met and Mr. Olusola asked what my burden was and I said my burden was for the family. We both have the same burden, so if that is one incident, then it is fine.    I am and he is also much burdened about the transformation of our nation because this nation has been so abundantly blessed by God, we are not realising the potentials of this nation. And I think that no matter what economic policies we practice, we have to get back to our value system which comes in the home. That is what informed it. It is not the kind of things you do once in a while. This is supposed to be something that we can see change happening in family life.
What are these specifics that you are introducing to change the value system?
During the first episode, we dealt with the foundation and pillars of marriage because a lot of people don't understand marriage. And we talked about the various things that make marriage successful. The next episode holds on June 4, 2016, and we are going to deal with marriage and finance. A lot of marriages fail not because people don't have money but because they don't know how to apply the money that they have. And we want to teach people about money, about how to handle money, about how to invest and budget among others.
Your programmes is a novel one  but there have also been concepts in the past geared towards successful marriages, yet statistics indicate that the number of failed marriages are on the increase in Nigeria. Now, what are those challenges you indentified as affecting the success of marriages in Nigeria?
First, I think we need to sustain our campaign to restore healthy family life. So we need not just do it this year, we need to continue with something like this. Note that you can drag a horse to the river but you cannot  force the horse to drink water. The idea is that if people come, they need to get a revelation that changes the way they think because only changed thinking will produce changed behaviour. And those are the things we need to do. Yes, as a rule, because of the overriding influence of our environment, people have done things the man's way and now what we are saying is there are ways we can look at life, we can look at marriage and begin to do things in a way that will make marriage successful.
The absence of mechanism for follow-ups on initiatives like this has been indentified to have contributed to the failure of some interventions that would have brought about enduring change in Nigeria. Are you going to put up any feedback mechanism to monitor the success of this intervention?
We have five episodes this year. And for those who seek help, who seek further help, there would be opportunity to have one-on-one counselling and that counselling will not be a one-off thing. Certainly, they will have the opportunity to come back for follow-ups.
Since it appears that the collapse of the value system in Nigeria is fuelled by the failure to prioritise value orientation, beyond the everyday rhetoric about value reorientation, how best can the society can be brought back to the path of excellence?
It is very simple. You learn values in your family at home. A child's character is all but formed by the time the child is 10 years old. So you have a window from zero to 10 in which to put values into a child. But a lot of people are not taking advantage of that. People are so busy working and they see their children as too little to teach them simple values, so they are neglecting that area. And the children are beginning to learn from the environment. The second thing is that you cannot teach values unless you exemplify them. Telling your child to do this and not doing it yourself is going to confuse the child. So we need to have parents understand that it is not just teaching the values but living the values. Just try and paint the picture of the calamity that we will have in the society if we continue in this valueless way.
Traditional African practices and Western culture conflict in some areas thereby contributing to the challenges being experienced today in marriages in Nigeria. How do you handle this?
Not all cultures are bad. There are some good practices in our various African cultures but one thing about biblical principles is that they are trans-cultural. When you come up with a practice in your African culture that contradicts biblical principles, biblical culture should override. I am saying that from a Christian perspective but I am sure the same applies to Muslims in a way that an Islamic culture overrides a native culture.
Subscribe for latest Videos