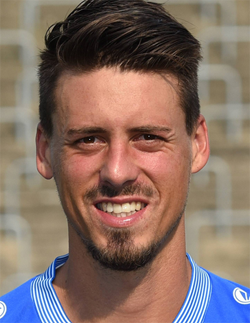 Sandro Wagner
Bundesliga bad-boy striker Sandro Wagner is set to play in England next season after scoring the winner, then being sent off, in Darmstadt's 2-1 win at Hertha Berlin, which effectively ended his ex-club's Champions League hopes.
Darmstadt reportedly turned down offers from Premier League sides West Bromwich Albion and Aston Villa last December as Wagner, who has a contract until 2017, went on to score 14 league goals to keep them in Germany's top flight.
"We'll have discussions with him in the summer, but he has made it clear that he imagines playing football in England," said Darmstadt coach Dirk Schuster on Sunday.
"We have to respect his wishes and we won't put any obstacles in his way.
"It's been a win-win situation for all parties this season: he has raised his market value and we have to thank him for helping keep us up."
Wagner scored Darmstadt's equaliser, then their 83rd-winner at Berlin's Olympic Stadium on Saturday.
The result left Darmstadt 13th, while sixth-placed Hertha are three points from a Champions League play-off berth, but with an inferior goal difference to their main rivals and are set to play in the Europa League in the 2016/17 season.
Angry Hertha fans stormed past security staff after the game and unsuccessfully hunted Wagner in the catacombs of the Olympic Stadium before being ejected.
Wagner was booked for his over-zealous celebrations for the winning goal in front of Hertha's fans having rejuvenated his career at Darmstadt this season after three unhappy years with the Berlin club.
He was then sent off two minutes from time for fouling Hertha's Mitchell Weiser.
"There were a lot of emotions. I wasn't treated so nicely here when they let me go," explained Wagner.
"I didn't mean it nastily," he said when explaining his enthusiastic celebrating in front of Hertha's fans.
"The fans here had supported me, but there were a few up there who booed me and called me blind (when he missed chances)."
The 28-year-old Wagner sparked controversy in Germany last month by suggesting footballers deserve higher wages because of the sacrifices made in their short careers.
"I think even the players at Bayern Munich do not make enough money, not even 12 million euros (US$13.6m) or so is enough. Professional athletes in American competitions make much more," he told Bild.
"Everybody is looking at everything you are doing, in your personal life as well.
"When you look at all the sacrifices footballers have to make, they do not earn enough money."
Munich-born Wagner came up through Bayern Munich's youth academy, but failed to win a first-team place and spent spells at Duisburg, Werder Bremen, Kaiserslautern and Hertha.
He was part of the Germany Under-21 team which won the 2009 European Championships alongside the likes of Mesut Ozil, Jerome Boateng, Mats Hummels and Manuel Neuer, scoring twice in the 4-0 win over England in the final.
ryj/nr