*As suspected killer of Gen Shuwa says, I'm being framed up
By Kingsley Omonobi & Abdulsalam Muhammad
An 80-year-old captive, Mallam Ibrahim Matuk, who said he had been subjected to severe hardship and torture by Boko Haram terrorists has been rescued by Nigerian troops in Borno State.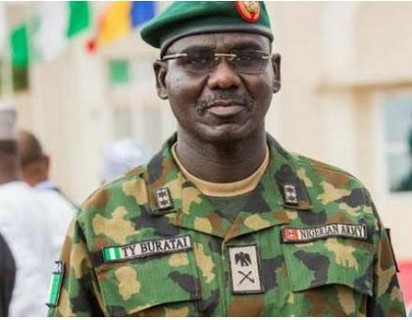 This came as 35-year-old suspected mastermind of General Mamam Shuwa's death, Mohammed Sani Nafiu, claimed he was being framed up by the military.
The 80-year-old Matuk, lamented that all his children were killed by the terrorist group while he was in captivity.
A statement by Col Sani Usman, Acting Director, Army Public Relations, who noted that the activities of the Boko Haram insurgents defied any sane reasoning, said, "The atrocities of the Boko Haram terrorists know no bound. Troops of 29 Task Force Brigade on clearance operations of remnants of Boko Haram terrorists rescued an 80 year old man in Shaltimari village, Borno State on Sunday, May 1, 2016. The elderly man, Mallam Ibrahim Matuk stated that he suffered untold hardship in the hands of the Boko Haram terrorists who killed all his children while in captivity."
'I didnt kill Gen Shuwa'
Meanwhile, Nafiu who was paraded by the military in Kano told newsmen that he knew nothing about the planning and assassination of the civil war veteran.
Looking calm, the high profile suspect who spoke in Hausa language without mincing words said: "I don't know anything about General Shuwa's death. I was arrested in my house and moved to the detention centre. They are trying to frame me.  I must make it clear,  I have no hand in General Shuwa's death."
The Boko Haram kingpin was arrested by the military at Hotoro General area of Kano municipal and a GSM phone, and N300, 000 cash were allegedly recovered from him.
Reacting to his denial, a senior military officer told Journalists on condition of anonymity after a brief encounter with the suspect to disregard his rants, because he was a serial liar.
The officer said "the suspect is a pathological liar. What we know of him was different from the picture he tried to paint before the world. Immediately after General Shuwa was martyr, this suspect relocated from his country home and his arrest was a product of sustained intelligence operation."