Majority Leader of the House Of Representatives, Mr Femi Gbajabiamila, on Friday said that things were difficult in the country but the question to ask was why this was so.
Gbajabiamila spoke at the Town Hall Meeting he organised to give account of his stewardship to his constituents in Surulere, Lagos.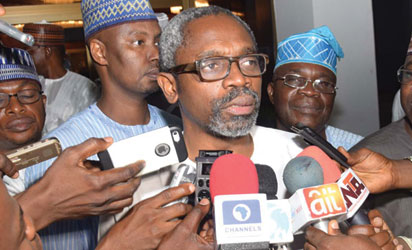 He said: "Things are very difficult in Nigeria today; we must acknowledge that. The question we need to ask ourselves is why? And the answer is very simple.
"When this government came into power, we knew the situation was bad, we knew the previous government did so much damage to the economy, but, we did not know how bad.
"It was when this government got there that they saw the books and they found that everything was empty.
"Apart from the falling oil revenue, we have read in the papers how people are being tried for looting the country`s treasury; how people were putting billions meant for terror war in their pockets.
"The kind of rot, the kind of corruption Buhari met is unprecedented anywhere in the world. Had the president not taken some of the measures he is taking now, the system would have collapsed completely," he said.
The lawmaker justified the recent hike in the price of petrol, saying it was the best for the country at this critical point in time.
Gbajabiamila explained that the country`s revenue was drying up as a result of the oil price crash, saying the situation compelled the government to make the painful decision in order to meet its commitments.
He appealed to Nigerians to show understanding on the issue, saying the increase would translate into benefits for the country in the long run.
The lawmaker urged Nigerians to give the Buhari administration the required support in its efforts to reposition the country.
He said that the administration had performed remarkably well in most areas since it took over government last year.
Gbajabiamila cited the re-invigorated war on corruption, decimation of Boko Haram terrorists and improved perception of Nigeria abroad as some of the achievements recorded by the government so far.
Reeling out his own achievements in the last one year, Gbajabiamila said he had sponsored bills restricting movement of articulated vehicles on bridges and granting loans to indigent students.
He said he sponsored the bill on articulated vehicles in view of the incident in Ojuelegba last year in which a truck fell off the bridge, killing people.
The lawmaker said if the bill was finally passed into law, it would check such cases in Lagos and elsewhere.
Gbajabiamila said he had provided N10million in empowerment support to some of his constituents and had secured employment for 15 of them in the federal civil service.
He urged people in Surulere to be law-abiding and eschew violence, saying development was difficult to achieve in the absence of peace.