The Nigerian senate has passed the Bankruptcy & Insolvency Act, (Repeal & Re-enactment) Bill, 2016 in a bid to ease the problem associated with accessing credit for business by Nigerians.
For many Nigerians businesses, the issue of credit has become a severe problem challenging the will of the creditors to give loans and the receiver of loan products. The lack of a functional bankruptcy and insolvency law has significantly raised the risk and therefore the cost of borrowing to an unsustainable level, creating the environment where we have very high levels of non-performing loans.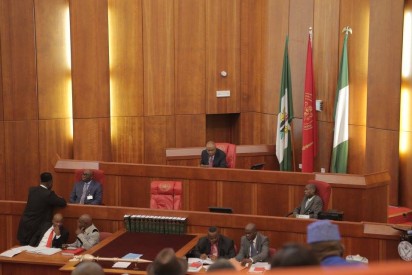 This state of affairs has in turn severely restricted availability of credit to key businesses and raised cost of borrowing. With the passage of the bill, banks would, with other things considered be in a better position to give loans to business at more manageable cost.
"With the event of today, the Senate has taken a giant step towards fulfilling its promise under the legislative agenda to provide the necessary legal, institutional and regulatory framework that would facilitate the availability of credit. The Bankruptcy and Insolvency Act, (Repeal & Re-enactment) Bill, 2016, is one of the priority bills of the 8th Senate. This bill was considered priority because of the important role as a key contributor to better credit risk management and also as a vital credit availability and business administration tool," noted the Senate President, Dr. Bukola Saraki.
Saraki vowed that the senate will not stop at the passage of the bill, "as achieving comprehensive banking development will require setting the risk variables for credit exposures as low as possible through a reform of the debt dispute and recovery system, property titling, credit referencing and networking.  Without adequate financing, the growth of these businesses will be stunted and our future prosperity threatened".
"This is what makes a comprehensive insolvency and bankruptcy law imperative; we must have a shorter and clearer path to credit resolution. This is important for lenders as well as borrowers. The dual process we have under the existing bankruptcy Act is a credit information sharing amongst banks, reconstructing mortgage financing to make The Mortgage Institution Act more relevance to today's housing reality," he added.