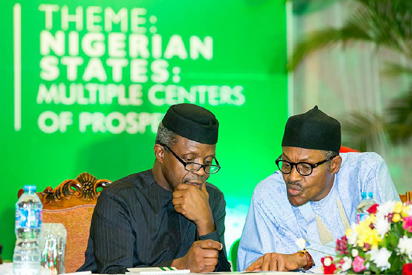 President Muhammadu Buhari and Vice President Yemi Osinbajo at the opening of a 2-day National Economic Council Retreat at the Statehouse Conference Centre on 21st March 2016.
By Bisi Lawrence
The Vice President of the Federal Republic of Nigeria, Professor Yemi Osinbajo, has been reported as saying that the President, Muhammadu Buhari has never been opposed to the policy of petrol subsidy. But, on the contrary, the President is on record to have been vehemently opposed to it all along. He simply did not believe in it. He has even yet shown no noticeable enthusiasm about its acclaimed removal. Osinbajo has, himself also said that there was not much to be removed as subsidy, anyway, while claiming that its removal, no matter how little, would still be a significant contribution to the health of the ailing economy.
There are many knowledgeable Nigerians who still share the President's former position, anyway. They had argued down the line that the entire policy had been a crooked deal contrived by some clever dishonest parties, housing a cabal, to fleece the nation of billions of naira in a systemic process. While the argument raged, they produced scientific data to support their stand that Nigeria was being robbed blind with the support of those who had been appointed to protect our economy.
And, indeed, it was later shown that several claims had been made for subsidy payments fraudulently. One or two of such daylight robberies were said to be in the process of being prosecuted. Well, they are not the only sensationally announced cases that we have not been hearing much about lately. The Dasukigate and its proliferation, ably supported by the multiple charge against the Senate President, Dr, Bukola Saraki, has continued to grab media space with every new discovery of alleged wrongdoing.
Along those lines, we have also been made aware of what losses the nation has been called upon to bear. The mind boggles to think that people in such high and responsible positions could roll up their sleeves in that disdainful manner, and plunge their fingers into the national coffers. So that when loose-jawed David Cameron opened his mouth to spill out his fantastically disgusting characterization of Nigeria at the feet of his queen, we could only reply him with the answer fit for a fool.
To put us back on our feet, according to Alhaji Lai Mohammed, it was necessary to remove the subsidy. The Minister of Information puts it simply and painfully: "We are broke." That didn't stop him, by the way, from acquiring some thirteen million naira from one of his ministry's agencies to fritter away in China on some feather-brained junket. That, he cannot but have realized, is how to get us "broke". That is the kind of uncaring attitude that comes from a mindset of impunity. Alhaji Lai would have been scandalized if his predecessor had done that, especially at a time he openly admitted that the nation is "broke".
In such a situation, it indeed behoves us to look for money by all fair means. It has been suggested in various assemblies that since our goose that lays the golden egg, oil, has come upon hard times, we should "diversify". That has been intoned like a Hindu mantra for over three years, and more. All the wise ones on every occasion say it, and repeat it as though it were a new thought.
We are still saying it. We have been informed of the hidden treasures in solid minerals. We are still waiting for more to be revealed, it would appear, because there seems to be very little accompaniment of an urgency in the progress being made to unleash all the promised goodness on our economy. And then there is agriculture, good old agriculture, where all condiments have now taken a leap for the ceiling in the market these days.
And upon enquiry as to how tomatoes and onions are costing so much more, the unsmiling market-women reply with wry humour. "The dollar has gone up, or haven't you heard?" The dollar…with tomatoes and onions? But, in all fairness, that is where it all begins, and that is where it ends—in the market, and on the table.
When the argument about the removal of subsidy was still fresh and at the loudest, those who were in support of its removal based their stand on the harsh effect it would have on the common man if it led, as it surely would, to a hike in the price of petrol. But the supporters of the removal swiftly came back with an argument which surprised everyone.
They stated that, on the contrary, the removal would, in fact, ease the lot of the common man. The benefactors of the subsidy, they maintained, were the wealthy men; the poor gained nothing from it. They are still promulgating that profound falsehood, even now that the subsidy is said to have been removed, and the price of petrol has consequently gone out through the window. When the price of petrol goes up, the cost of every commodity rises.
The Labour movement, fragmented as it appears, might have achieved much in the way of forcing government to bring down the cost of a litre of petrol from N145, which is what they have now fixed it at. It is a waste of time to argue whether there has been deregulation, or liberalization, or "price fixing". It is also futile to wait for so-called "palliatives". The people's spirit has been broken by the rigour of long queues and interminable waiting at fuel stations. If the Labour unions fail, the nation may be heading for a crisis we will find very difficult to handle. But it would even be ascribed to the authorities as magnanimous if they would bring down the price of petrol with little pressure on their own.
Time out.