By Emma Amaize, Soni Daniel, Samuel Oyadongha, Perez Brisibe & Emem Idio
Bayelsa State Command of Nigeria Security and Civil Defence Corps, NSCDC, has launched a manhunt for the alleged masterminds of Sunday bombing of a pipeline belonging to Nigerian Agip Oil Company, NAOC, at Ikienghenbiri community in Southern Ijaw Local Government Area of Bayelsa State.
The command in a statement, yesterday, said its operatives were particularly mandated to find a suspected leader of the gang identified as Suoyou.
The statement by the command's Public Relations Officer, Mr. Dauzuo Izonfate, admitted that a suspect was in their custody and would soon be arraigned in court and "diligently prosecuted."
He said: "We want to state that the suspect we arrested in connection with the attack on Agip pipeline at Ikienghenbiri in Southern Ijaw is in our custody."
No medals for criminality—Presidential aide
This came as Special Adviser to the President on Niger Delta Affairs, Gen. Paul Boroh (rtd), warned those who are attacking oil pipelines that the Federal Government will not reward criminals with medals under the guise of seeking peace.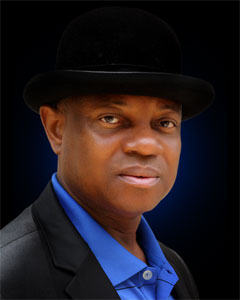 Boroh cautioned those involved in the renewed acts of economic sabotage against Nigeria, to retrace their steps or face the consequences of such criminality, which has no basis whatsoever in the status of the region.
Meanwhile, Delta State Advocacy Committee Against Vandalism of Oil Installations, headed by Deputy Governor of the state, Mr. Kingsley Otuaro, discussed separately with top officials of Shell Petroleum Development Company, SPDC, ex-militants at Forcados Oil Terminal and Odimodi community in the creeks yesterday, on how to forestall further bombings.
The committee deployed in the creeks last Monday by Governor Ifeanyi Okowa to stop further vandalisation of oil pipelines by Niger Delta Avengers, will provisionally pull out from the riverine communities, tomorrow to brief the governor on its findings.
Otuaro speaks from the creeks
Governor Okowa confirmed the development in an interview with reporters in Asaba even as the Deputy Governor told Vanguard on phone, yesterday, from the creeks: "We have just finished meeting with SPDC. We had a very fruitful discussion on their operations and they took us to their facility that was breached by militants.
"We saw the repair works. Later, we went into a closed-door meeting to share intelligence, which is not meant for the media. You said my boss (Governor Okowa) told you that we are retreating to brief him; that is true.
"We will brief him on Wednesday (tomorrow) after our engagement with the Nigeria Gas Company, NGC, and other stakeholders on Tuesday (today)."
Boroh
Similarly, Boroh, while addressing newsmen in Abuja, yesterday, said it was wrong for criminals to embark on destruction of revenue-producing facilities after the Federal Government had already given general amnesty to militants and was actively training those who signed up for the programme.
Boroh drew the attention of those pressing for a new amnesty for the militants to the fact that Federal Government had kept faith with the implementation of the amnesty it declared on June 25, 2009 and was drawing to an end with an exit strategy in place.
He said: "There is no plan to go back on the Amnesty Programme and all men of goodwill in the Niger Delta should support President Muhammadu Buhari's deve-lopment effort in the region."